Weiss MAN301-DAC-A: A 30th Anniversary Limited Edition MAN301 In Gold.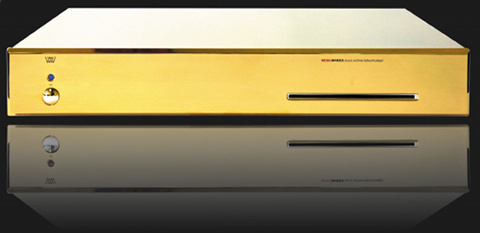 Source: Press Release, Last Accessed: 2014/06/12
To celebrate their 30th year anniversary, Weiss launched a limited edition MAN301-DAC Network Player finished in gold! The model name is MAN301-DAC-A and it sports their soon to be released new analog output section with a discrete line driver stage.
The MAN301uses the professionally maintained Gracenote database for metadata and cover art fetching, and is a versatile music archive manager and network player with an Apple iPad remote control unit and capable of support various storage technologies. It is a system for music archiving, music library maintenance, music files playback, CD ripping and playback and Internet radio streaming as well.
The player uses a stainless steel chassis with a solid 10 mm aluminum front plate (in the 30th Anniversary edition this is finished in gold), features two separate power supplies, one for the computer section and another one for the digital and analog audio sections, an internal high precision/low jitter clock generator and supports all standard sampling frequencies up to 192 kHz as well as DSD64 and DSD128.
Digital inputs for external audio sources include AES/EBU and S/PDIF formats on XLR, RCA, and Toslink. The built-in D/A converter is of similar design to Weiss' renowned DAC202 using four D/A conversion channels per audio channel.
The music files are stored on an external storage device, preferably on a NAS (Network Attached Storage) or DAS (Direct Attached Storage) like a USB hard-disk. There is no internal storage available for music files.
For more information: http://www.weiss.ch/
---