Yamaha introduced new integrated amps in Natural Sound Hi-Fi series.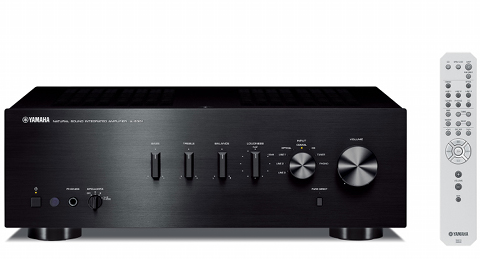 Source: Press Release, Last Accessed: 2014/09/11
Yamaha unveiled four integrated amplifiers that will acquaint newcomers to the legendary "Natural Sound" of its Hi-Fi components as well as thrill enthusiasts who want modern connectivity, such as digital audio connections for a HDTV or Blu-ray Disc player all the way up to a USB DAC function that supports high resolution audio.
According to the press release, these new models, comprised of the A-S801, A-S701, A-S501 and A-S301, reflect the company's experience and expertise in all aspects of music— from musical instruments to live production gear—and deliver premium, high quality audio reproduction of studio and live performances as the artists intended them to be heard.
Each model in the line is crafted with Yamaha's proprietary ToP-ART (Total Purity Audio Reproduction Technology) concept that places the right and left channels in a symmetrical design for the highest sound quality. All four models have an anti-resonance base, while the top three also have a solid center bar that deters vibration and extraneous noise and distortion.
The top two models in the line also offer CD Direct Amplification that maximizes the signal-to-noise ratio of CD sources by enabling the audio signal to travel the shortest possible route—bypassing the buffer amp and the tone, loudness and balance controls—to deliver the purest sound reproduction. Continuously Variable Loudness Control maintains the full tonal range of music, which is especially beneficial at low volume levels.
Each model has digital audio inputs for HDTVs and Blu-ray Disc players and is, also, compatible with Yamaha's optional YBA-11 Bluetooth wireless adapter that enables users to easily stream music from compatible mobile devices and computers.
The top-of-the-range A-S801 enables the playback of high-resolution music files via its built-in USB DAC function. In addition, it has a high performance ESS Technology SABRE32 Premier Stereo DAC and double-bottom chassis for the reduction of distortion-causing vibration.
The A-S801 and A-S701 features gold plated terminals for speakers and for all input sources while the A-S501 features gold plated speaker, CD and phono terminals.
For more information: http://www.yamaha.com/
---