Philharmonia: A loudspeaker from Amadeus and Jean Nouvel.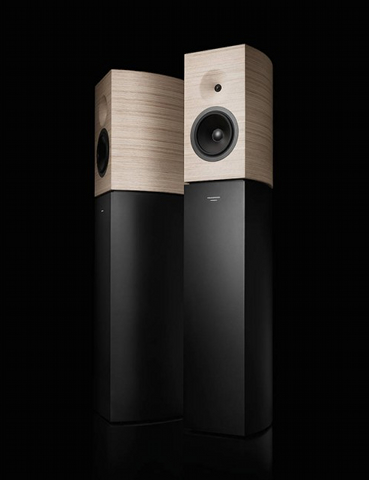 Source: Official website, Last Accessed: 2015/11/12
Designed by Amadeus and Jean Nouvel, Philharmonia is a very high definition monitoring system combining innovation and technology, with timeless beauty and a pristine sonic character, initially created specifically for the Philharmonie de Paris recording and mastering studios. The loudspeakers are now available for any use in the home or studio.
Jean Nouvel, the creator of the Philharmonie de Paris concert hall, is undeniably the most important and distinctive of all French contemporary architects, while Amadeus has designed, built and marketed a wide range of audio playback systems and very high-end signal processing equipment, bringing together high technology, style and emotion. Amadeus was founded in 1992 with the reunion between designer Bernard Byk and scientist Michel Deluc, and today Amadeus has become a reference brand for sound professionals.
Philharmonia features a curved structure that is both simple and complex, consisting of 547 wood veneers accurately machined and assembled, offering a distinctive look. It features a unique hybrid laminar port using progressive termination. Machined into the wood material along the full height of the speaker system, the very low velocity port yields optimal linearity for the lowest distortion possible, the company says.
The distinctive construction technique of Philharmonia helps neutralize standing waves affecting sonic clarity and low-frequency definition, through an extremely complex internal structure using a combination of interlocking panels arranged in two perpendicular planes, each hosting several tuned notch resonators. This proprietary technique is in part inspired by Amadeus-designed professional Mains monitoring systems used in large recording studios. Philharmonia houses a high-frequency driver with very low dielectric losses and high thermal conductivity, loaded by a fast exponential waveguide machined in wood, which yields exceptional control over spatial dispersion.
The loudspeaker is bi-amplified using two custom-built amplifiers, each delivering 700 Watts under 8 ohm loads. These proprietary PPM-PWM fixed frequency class-D amplifiers are equipped with a high efficiency switched mode power supply.
Each loudspeaker features a powerful, 64-bit digital processing unit capable of a 118 dB dynamic range managing core system parameters including system EQ, time alignment between sections, limiting, transducer thermal protection.
Philharmonia features a line-level analog input through a professional-grade XLR connector, letting you use the DAC unit of your choice but also integrates two digital inputs/outputs conforming to the AES3 standard. These are coupled to a high resolution 24-bit/96kHz converter placed as close as possible to the amplifiers. Connections include an RJ-45 network input for adjustment to the acoustical properties of the listening space via dedicated software. The software runs on Macintosh, Apple iPad and Windows computers.
For more information: http://philharmoniabyjeannouvel.com/
---