Antelope Audio's Pure2 Stereo Mastering AD/DA Converter.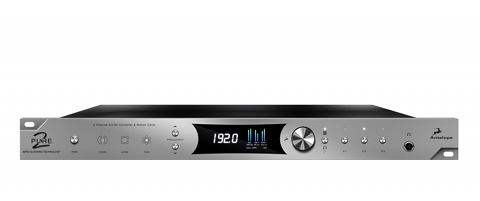 Source: Press Release, Last Accessed: 2015/06/03
Antelope Audio, the well-known professional audio gear manufacturer, unveiled their widely anticipated Pure2 mastering-grade 24/192 kHz AD/DA stereo converter and master clock, which is now shipping and priced at $2,195.
Pure2 builds on the mastering legacy of Antelope Audio's renowned Eclipse 384 high-end converter, which is found in high end mastering facilities around the world. Borrowing aesthetics and form-factor elements from Antelope's top-selling Orion32, Pure2 combines the features and capabilities of several of Antelope Audio's industry-standard AD/DA converters and interfaces.
From a sonic perspective, Pure2 enables users to realize uncompromising digital clarity and analog realism, while offering a flexible range of connectivity options and user programming features — including remote control. Pure2 also employs an all-new design that leverages best-in-class Burr-Brown converters and the same Acoustically Focused Clocking (AFC) technology present in Antelope's ultra high-end Trinity master clock. By using Pure2's built in low-latency USB circuit (for both Mac & PC) — which is also present in Orion32 and Zen Studio — users can experience fast and stable DAW connectivity.
"With Pure2, our goal was to provide users with two channels of the very best AD/DA conversion and clocking available, in a small footprint and at a fraction of the price," commented Igor Levin, founder and CEO of Antelope Audio. "Pure2 raises the standards for an entire audio ecosystem — whether it is a high-end mastering facility, or a bedroom-based project studio."
Most AD converters clip when the audio exceeds zero decibels, resulting in unpleasant digital distortion. Pure2's overload protector handles these peaks in a more acoustically pleasing manner, allowing you to record at higher levels without excessive limiting. The end result is a wider, more focused, and cleaner sonic image. Pure2 also features Antelope Audio's pristine analog circuitry throughout. When monitoring, Pure2's relay-based stepped attenuator ensures an exceptional transparency and a perfect L/R balance — even at extremely low listening levels, the company says. The unit's dual-DAC architecture — with separate DAC chips for left and right channels —guarantees superior stereo separation and imaging.
Pure2 also brings together the DA conversion of the Zodiac Platinum, the monitor and input source selection from the new Satori advanced monitor controller, and a linear power supply based on the Voltikus audiophile power supply.
For more information: http://www.antelopeaudio.com/
---