B2 Premium: Audioengine's wireless loudspeaker.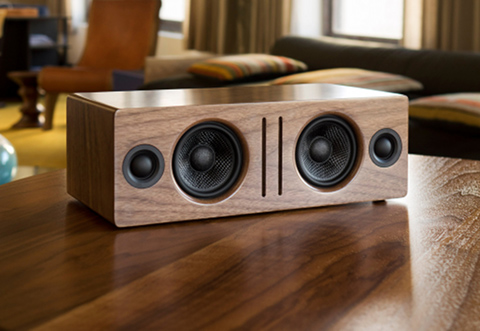 Source: Press Release, Last Accessed: 2014/11/06
Audioengine's B2 Premium Bluetooth loudspeaker brings the signature sound of the Audioengine 2+ powered desktop loudspeakers to the wireless world in a convenient all-in-one stereo speaker system.
"We've taken the same Bluetooth circuitry that made the award-winning B1 Bluetooth Receiver such a success and paired it with the popular sound of our A2+ multimedia speakers", says Brady Bargenquast, Audioengine director. "Add the great-looking wood finishes we're offering and the result should thrill any music enthusiast".
According to the press release, the wood cabinet of the B2 reflects traditional Audioengine design and the high-quality components and audio fidelity are typical of Audioengine's commitment to great sound at affordable prices. The loudspeaker features custom Kevlar woofers and silk dome tweeters in an acoustically isolated cabinet design loaded through dual front port slots for extended bass response.
The Audioengine B2 has a built-in 24-bit DAC, extended wireless range, and the aptX Bluetooth audio decoder to close the gap between the computer music and home Hi-Fi. There is, also, an Auxiliary audio input to connect an analog audio source, if needed.
The B2 Premium has a retail price of $299. The B2 is already available and can be purchased from over 400 authorized worldwide resellers or online direct, in American walnut, Zebrawood or Black ash wood finishes.
For more information: http://www.audioengineusa.com/
---