Auralex now shipping ISO-Tone Turntable Isolation Platform.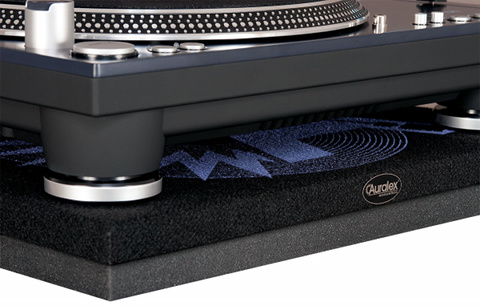 Source: Press Release, Last Accessed: 2015/04/01
Located in Indianapolis, Auralex Acoustics was founded in 1977 with a mission to provide top-performing acoustical treatment products at the best possible value. Their products enjoy widespread use among artists, producers, engineers, corporations and government agencies worldwide.
Auralex Acoustics, is now shipping its ISO-Tone Turntable Isolation Platform, the newest member of the award-winning ISO Series (Instant Sound Optimizers).
Engineered specifically to decouple turntables from the supporting surfaces they rest on, the ISO-Tone diminishes structural vibrations and acoustic feedback phenomena associated with desktops and DJ cases. Designed for mobile DJs, audiophiles, rental houses, and anyone seeking enhanced turntable performance, purity and accuracy, the ISO-Tone features a 0.75-inch layer of black fabric-wrapped MDF that floats on a layer of Auralex's proprietary Platfoam that protects turntables from unwanted vibrations. The 17.75x 14.25 (inches, wxd) isolation platform accommodates most turntables and the low-profile design enables easy transport.
For more information: http://www.auralex.com/
---