The future of sound: Bang & Olufsen celebrates the first 90 years with the most innovative loudspeaker to date.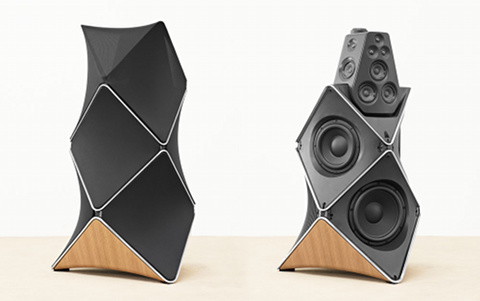 Source: Press Release, Last Accessed: 2015/10/06
BeoLab 90 is a celebration of Bang & Olufsen's innovative heritage and timeless design philosophy in the year of the company's 90th anniversary. The highly sophisticated loudspeaker contains a multitude of technologies. It is a perfect mix of world-class design and acoustics in, what may well be, the most complete and powerful digital loudspeaker ever designed for use in the home, the company says.
BeoLab 90 is fitted with Bang & Olufsen's new Active Room Compensation technology, which makes up for the impact of your room, your furniture, the placement of the loudspeakers and the location of the listening position. The new loudspeaker offers unique Beam Width Control, which enables you to change the width of the sound beam to suit different listening situations. You can easily change the listening experience from a dedicated sweet spot to a party all-over the room setting, just by the touch of a button. When family and friends are gathered for a film experience, the wide sound setting will provide a great cinematic experience. With loudspeaker drivers placed in various directions, you can use the Beam Direction Control to steer the sound radiation to your listening location.
BeoLab 90 has a unique and impressive appearance with no apparent visual front, which substantiates the all-embracing acoustic performance of the loudspeaker. The 360° design is based on a complex aluminum cabinet totaling more than 65 kg, so the structure is rock solid. The black fabric covers hover like sails in front of the speakers, and the curved wooden base lifts up the large structure from the floor, allowing the loudspeaker to fit in with the interior design anywhere in your home.
BeoLab 90 can be experienced in selected Bang & Olufsen stores from November the 17th, 2015 – the 90th anniversary of B&O. The recommended price of BeoLab 90 is €34.995/$38.995 per unit, with first deliveries expected end of year.
For more information: http://www.bang-olufsen.com/
---