Bose introduced new SoundLink Mini Bluetooth Speaker II.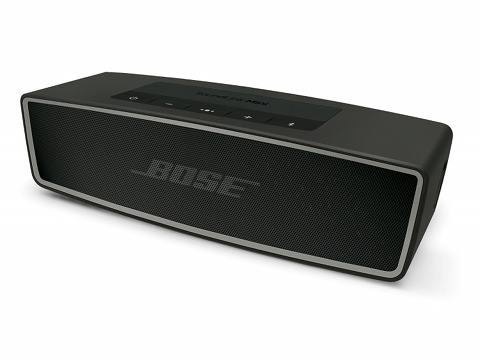 Source: Press Release, Last Accessed: 2015/06/04
Bose recently unveiled their next-generation SoundLink Mini Bluetooth speaker, the most feature-rich, ultra-portable SoundLink speaker ever, updated with a speakerphone for taking calls out loud, longer battery life for all day listening, multi-connect for a phone and a tablet, and voice prompts for easy pairing, while still delivering the powerful, lifelike audio quality that made it the most famous little speaker in the world. The price remains $199.95.
"The original SoundLink Mini did something remarkable," said Jack Yu, product manager for Bose SoundLink speakers. "There was nothing else like it, and it continues to amaze people with its sound. Our engineers kept all that performance -- and added new ways to use it and love it."
The SoundLink Mini speaker II has a built-in speakerphone, so taking calls out loud -- and hearing every word clearly -- just takes a press of a button on the top of the speaker. When you're done talking, music resumes automatically. You can connect two Bluetooth devices at a time, letting you play music or any content from your phone and tablet. And pairing has never been easier. New voice prompts streamline the process, walking you through the simple steps to connect to a mobile device, and identify your devices by name using text-to-speech. The SoundLink Mini speaker II stores the eight most recently used Bluetooth devices in memory, eliminating the need to pair again.
The SoundLink Mini speaker II now comes with an improved rechargeable lithium-ion battery that lasts up to 10 hours, ideal for personal listening sessions and long days of work or play. For added convenience, it now charges with most USB power sources and includes a charging cradle, so it's ready to go when you are. Take it almost anywhere. It's durable and solid, tested for the rigors of everyday use, indoors or out.
Still Bose's smallest Bluetooth speaker by keeping the compact footprint and size of the original -- weighing 1.5 pounds and measuring just 2.0x0.1x2.3 (inches, hxdxw), it also features its iconic anodized aluminum housing that resists scratches and fingerprints, and includes an updated beveled accent and a micro-perforated steel grille. The same sound that redefined the Bluetooth speaker category remains at the heart of the new SoundLink Mini speaker II, and it's patented and exclusive to Bose, the company says. Proprietary dual-opposing passive radiators combine with two custom-designed, high-efficiency transducers to deliver full, clear audio, with dramatically deep low notes. Turn the volume up or down -- Bose digital signal processing optimizes the audio output for balanced sound at any listening level.
The new SoundLink Mini Bluetooth speaker II will be available beginning on June 21, 2015, for $199.95. The SoundLink Mini speaker II comes in two colors: Carbon and Pearl, with soft covers in Deep Red, Energy Green, Navy Blue, Charcoal Black, and Gray, sold separately for $24.95 each.
For more information: http://global.bose.com/