Bose announced next-generation SoundTouch wireless systems with Bluetooth and Wi-Fi.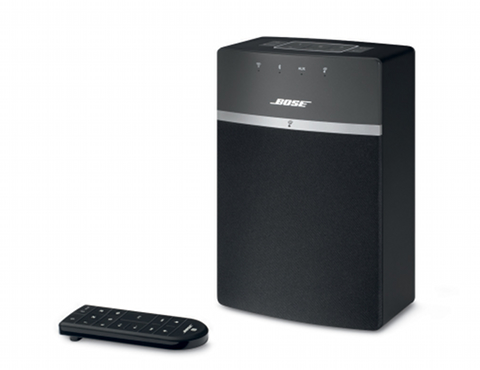 Source: Press Release, Last Accessed: 2015/09/29
With millions of people streaming music every day, Bose ushers in a new era for playing it all at home with its next-generation SoundTouch wireless music systems. Now, every SoundTouch system -including the new little SoundTouch 10 loudspeaker- all have Bluetooth and Wi-Fi built right in for the best of both worlds, perfect for instant music and multi-room listening. With Bluetooth, you can stream any song, playlist, music service, and YouTube directly from your phone or tablet. With Wi-Fi, you can broadcast it to as many SoundTouch speakers you have, or use the intuitive SoundTouch app to explore integrated music services, set personalized presets, and enjoy different music in different rooms. Bose also announced two wireless music system "firsts" with Spotify, available soon: In addition to Spotify Connect, which lets you control any SoundTouch system from the Spotify app, Spotify will also be integrated in the SoundTouch app. And bose.com will offer ReadySet with Spotify, a way to preload any SoundTouch system with Spotify playlists.
The new SoundTouch 10 wireless speaker combines Bose's digital signal processing with the new Unidome transducer, a 2.5-inch powerhouse that produces the highest excursion for any transducer of its size in Bose history. The new SoundTouch 20 and 30 Series III speakers are the updated big brothers to the SoundTouch 10 speaker. The SoundTouch 30 Series III is Bose's best-performing one-piece solution, and the SoundTouch 20 Series III delivers rich, room-filling sound from a more compact enclosure. New SoundTouch soundbars and home theater systems are also available, including two soundbars, the SoundTouch 120 and 130 systems; and a 5.1 system, the SoundTouch 520 home theater system.
SoundTouch has the world's most popular music services built in -Spotify, Pandora, iHeartRadio and Deezer- each accessible through the intuitive SoundTouch app. The app lets you set six personalized presets to any music service playlist, artist or internet radio station, and change them whenever you want. Each time you do, every SoundTouch speaker in your home remembers them automatically -- so when you don't want to use the app, you don't have to. Through new 802.11n dual-band Wi-Fi, the SoundTouch connection is stronger and more reliable with less interference and drop-outs. The addition of 5 GHz compatibility also offers a better streaming option in crowded environments like apartment buildings in the city.
All new SoundTouch systems are sold at bose.com, select authorized Bose dealers and Bose retail stores. Early next year, in-app Spotify integration will be included in new systems and available to existing SoundTouch customers via a free software upgrade.
For more information: http://www.bose.com/
---