Bryston introduced the Mini A Loudspeaker.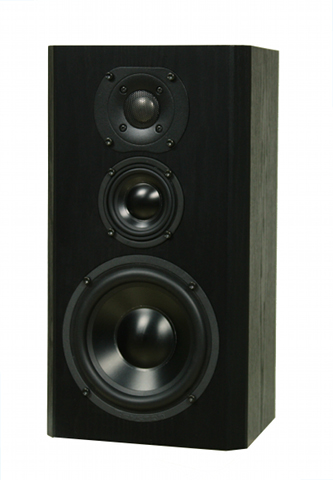 Source: Press Release, Last Accessed: 2015/02/26
Bryston has announced the introduction of the Mini A loudspeaker, a high-performance three-way bookshelf speaker engineered for superb resolution and balanced off-axis response -a hallmark of all Bryston loudspeaker models.
At just over 15-inches tall, the Mini A features a sleek, decor-friendly form factor made sturdily from 0.75-inch MDF and utilizing a premium quality 6.5-inch aluminum woofer, 3-inch aluminum midrange and 1-inch Titanium dome tweeter. All drivers are designed and purpose-built specifically for the Mini A loudspeaker.
The Mini A design has benefited from extensive enclosure vibration analysis, crossover network refinement and anechoic chamber testing to deliver true high-fidelity at an affordable price, the company says. Mini A is capable of high output levels without introducing distortion or compression into the listening experience. Each pair is unit-to-unit matched to ensure uniform response.
"The Mini was engineered from the ground up to set a performance standard for a speaker in this size and price range," explained Bryston's James Tanner. "Throughout our loudspeaker lineup, we employ three different midrange drivers and five different versions of our woofer—we are actually building drivers specifically to address design goals for each model. The Mini A's exceptional performance can be attributed to the refined product development process and quality components utilized in this loudspeaker," Tanner added.
Mini A could be used as a home theater speaker. Two pairs of Mini A loudspeakers (front and rear) combined with an AC-1 Micro center channel and the Model A subwoofer form a complete 5.1 loudspeaker package for under $5000 MSRP.
The loudspeaker is available in Natural Cherry, Boston Cherry, and Black Ash. Custom finishes are also available for an up-charge. The Mini A features premium grade binding posts along with padded feet, spikes and a black fabric grille. Like all Bryston loudspeakers, the manufacturer's warranty is 20 years.
The Mini A loudspeaker has an MSRP of $1200 per pair and is available now from authorized Bryston dealers. Optional stands designed for the Mini A, which can be bolted to the speakers securing them in place, are available with an MSRP of $299 per pair.
For more information: http://www.bryston.com/
---