Cabasse Stream AMP 100: Wireless music distribution with style and high resolution.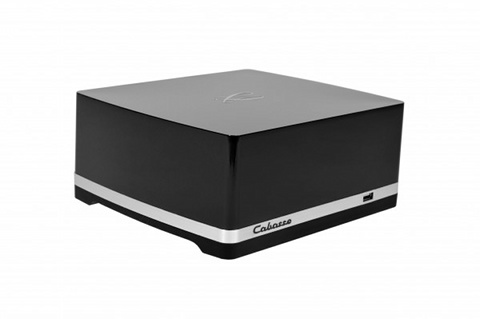 Source: Press Release, Last Accessed: 2015/03/20
Once connected to your home network via Ethernet or Wi-Fi, Stream AMP 100 allows you to stream all your locally stored digital music files, thousands of internet radio stations as well as Spotify and Deezer. The Stream AMP 100 is fitted with an optical S/PDIF input which can be connected to a flat screen TV or a CD player, two analogue and one USB inputs. The latter enables access to music files on memory sticks or HDDs. Instant Bluetooth aptX connection is possible with NFC enabled smartphones and tablets.
Stream AMP 100 supports PCM and FLAC lossless file playback (up to 24/96) as well as WMA and AAC-LC file playback (up to 320kbps) through both wireless (802.11b/g/n) and wired (10/100Mb Ethernet) connections.
The amplifier is fitted with four loudspeaker outputs and a power optimization impedance switch. It is possible to choose between stereo with one or two pairs of speakers or mono distribution with two or four groups of speakers. Designed for use in a professional system, it can for example amplify up to 8 of Cabasse Archipel In-Ceiling speakers and is controlled by Wi-Fi from any room in the house. The amplifier is capable of 2x50WRMS in 4/8 Ohm loads or 4x25WRMS in 4/8 Ohm loads.
Stream AMP provides 4 types of room adaptation for Cabasse loudspeakers. Using the app, the user can simply select which loudspeakers are used and where they are positioned in the room. The improvement, which is stunning with compact loudspeakers thanks to the obvious low-end extension benefits, is also obvious with floorstanders, with more air and definition across the entire bandwidth, the company says.
For more information: http://www.cabasse.com/
---