Dali unveiled new Opticon Series.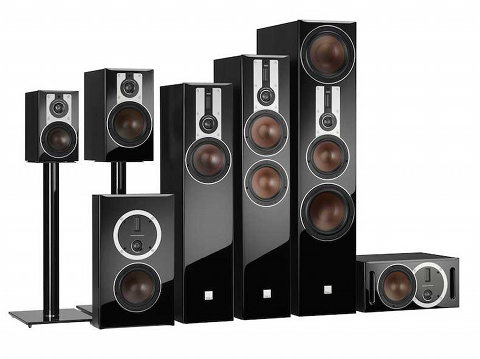 Source: Press Release, Last Accessed: 2015/09/23
The new Dali Opticon replaces the DALI Ikon MKII, featuring technologies derived from the Rubicon and Epicon. The new series consists of seven models ranging from a compact stand-mount to floorstanding and including a slim wall-mount model and a center-channel loudspeaker as well.
There are three floorstanders, the Opticon 8, Opticon 6 and Opticon 5, two bookshelf/stand-mount models, the Opticon 1 and Opticon 2, a center loudspeaker, the Vokal and a wall-mount model, the LCR. Opticon cabinets are available in three finishes, Gloss Black and Walnut with Gloss White a special order.
With the significant addition of patented SMC magnet technology, Opticon woofers now feature Dali's Linear Drive System that lowers the hysteresis and eddy currents. The result is measurable and audible reduction of third- and fifth-order harmonic distortion, improved clarity and coherence, Dali says. The woofer cone is made from a pulp mix of paper and wood fiber that ensures very low surface resonance, low mass and high rigidity and gives the cones their distinctive reddish color. The cones are hand doped to further increase performance.
Hybrid tweeter modules featuring Dali-designed dome and ribbon tweeters offer a wide vertical and horizontal dispersion of high frequency sounds. Rolled in above 10 kHz, the ribbon reaches full contribution from 14 kHz to well beyond 30 kHz, far above the audible range. This is tailored to the dome, giving a smooth and linear presentation.
All Opticon loudspeakers rely on bass reflex loading tuned to minimize distortion from the woofers, and to control the time response of the bass system. Hand-built crossovers emphasize simplicity for the 2, 2 1/2- and 3-way models, using very high quality components and present an easy load to the amplifier. The front baffle form a rigid base for the drivers, which are mounted directly into the 1-inch thick MDF.
The terminals were developed especially for this series and feature sturdy, gold-plated binding posts. Opticon 1, 2, LCR and Vokal are prepared for single wiring; the rest of the series feature bi-wiring terminals with a heavy power bridge for single wiring. The binding posts will accept banana, spade and cable.
For more information: http://www.dali-speakers.com/
---