The new Rossini network player/DAC and CD player from dCS.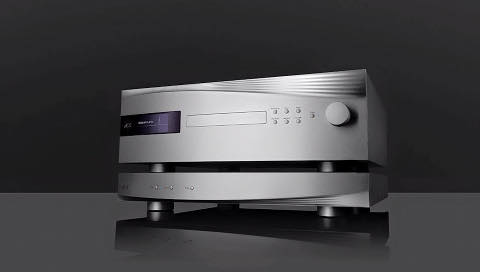 Source: Press Release, Last Accessed: 2015/05/14
dCS recently announced its new Rossini series, a premium-priced complete digital front end that replaces Puccini in the dCS range. Rossini comes in two versions – the £15,000 Rossini DAC and £18,000 Rossini Player and, according to the press release, sets a new performance standard for single-box digital systems.
Rossini DAC features an array of digital audio inputs and is able to stream music from NAS drives and streaming services such as TIDAL, Spotify and Deezer over Ethernet, from Apple devices via Airplay, and audio via industry-standard USB, AES and S/PDIF digital inputs. Rossini Player adds an integral, high quality Compact Disc transport for silver disc playback.
Designed for flexibility and ease of use without compromise, both DAC and Player deliver excellent performance by using the very latest dCS Digital Processing Platform and Ring DAC technology, originally developed for the flagship Vivaldi series. Rossini uses a new streamlined processing platform – its single FPGA bringing improved signal processing, superior flexibility and effectively future-proofing the Rossini series the company says.
Rossini has a brand new user interface, plus a custom control app that lets listeners manage their music playback experience from any source in an elegantly simple way – accessing CD, iRadio, digital and UPnP sources all from one control point. The Rossini app also features an intuitive install and configuration wizard.
The multistage oversampling design offers optional DSD upsampling plus an extensive selection of DSP filters to suit individual taste and music type. The Rossini Player's CD mechanism does not support SACD, but SACD data can be played via Dual AES output from dCS Vivaldi, Scarlatti or Paganini Transports. The network streaming functionality within Rossini DAC and Player is a state of the art effort in terms of processing power and jitter performance, and currently runs at up to 24-bit, 384kS/s and DSD128 supporting all major lossless codecs, DSD in DoP format and native DSD. Rossini utilizes the simple yet highly effective dCS auto clocking system, which minimizes jitter and improves sound quality significantly, dCS states.
British designed and made to the highest standards, Rossini's elegant chassis uses aerospace-grade machined aluminum with internal acoustic damping panels to reduce sound-degrading mechanical vibration and magnetic effects. Multistage power regulation is employed, with twin mains transformers to isolate the analogue, digital and clock circuitry.
Rossini features an enhanced digital volume control for use as a digital preamp with variable output straight into a power amplifier, or as a fixed-level source component. As with all dCS products, Rossini's firmware can be easily updated via CD, USB or the new software download and update functionality, to add new features or improve performance over its lifetime. Rossini is expected late August 2015.
For more information: http://dcsltd.co.uk/
---