Denon introduced new flagship AVR-X7200W Network AV receiver featuring 3D audio options.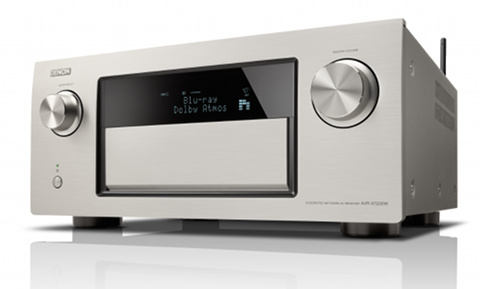 Source: Press Release, Last Accessed: 2014/11/20
The AVR-X7200W features ultimate build quality, outstanding features and most remarkably, it comes with ground-breaking Dolby Atmos to deliver captivating, multi-dimensional sound, and additionally is upgrade-ready for Auro-3D listening format.
The new receiver features a powerful 9 channel amplifier with 210 watts per channel packed in a left/right-separated, symmetrical monolithic amplifier design with custom made DHCT (Denon High Current Transistors). This, according to Denon, guarantees _best-in-class sound quality with minimum interference, astonishing clarity, power, detail, and depth_. It further supports speaker setups that go beyond its 9 power amplifiers stages, thanks to its 11.2 channel processing and 13.2 channel preamp outputs. The amplifier is compatible with Dolby TrueHD and DTS-HD Master Audio, and -also- offers DTS Neo:X and Audyssey DSX for advanced surround experience with additional height or wide speakers.
The AVR-X7200W features Denon_s own D.D.S.C. - HD32 circuit with renowned AL32 Processing Multi-channel, and the Denon Link HD connection for jitter-free transmission from a supporting Denon Blu-ray player. Discerning consumers will appreciate the fact that the new receiver features the most advanced Audyssey package including Audyssey MultEQ XT 32 (Pro ready) room calibration with Sub EQ HT and LFC.
For the ultimate in three-dimensional surround sound, the AVR-X7200W comes with the latest decoding technology Dolby Atmos out-of-the-box, and is also ready for Auro-3D (online upgrade offer starts beginning of December; a fee is charged).
As all of this year_s new X series AVRs, AVR-X7200W comes with top level connectivity options including built-in Wi-Fi to easily connect to a home network, and Bluetooth to connect mobile devices with the touch of a button. Users can stream their own music most conveniently from Apple iDevices via AirPlay, or access their music library on DLNA compatible devices like a network attached storage device (NAS). Moreover, he can choose from thousands of Internet Radio stations and enjoy music from Spotify via the latest Spotify Connect scheme (where available; subscriptions required). For total convenience, a front USB port can be used to connect either USB storage devices, or an iDevice to playback music and charge at the same time. To keep control of all those features, there is a Denon Remote App available for iOS and Android devices, and the further improved Setup Assistant and Advanced Graphical User Interface make it very convenient even for beginners to set up the device with its amazing roster of facilities.
With in total 8 HDMI inputs and 3 HDMI outputs, the AVR-X7200W's advanced video processor is equipped to handle future 4K Ultra HD 50/60 Hz full rate content as well as featuring 4:4:4 Pure Color 4K sub-sampling pass-through and even has the ability to upconvert and transcode standard definition and high definition video sources up to 4k Ultra HD 50/60 Hz resolution.
The AVR-X7200W is already available in a black or premium silver color finish.
For more information: http://www.denon.com/
---