Small size, great sound: New Denon D-M40 continues the legacy of Europe's most wanted Micro Hi-Fi System.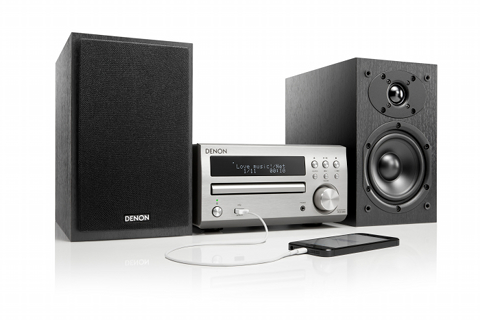 Source: Press Release, Last Accessed: 2015/04/07
Denon announced a further advancement of Europe's most wanted Micro Hi-Fi System by stepping into the footprints of multi-award winning D-M39, and offering the new D-M40, a package that includes a serious Hi-Fi quality CD Receiver RCD-M40 along with the optimized two-way loudspeaker system SC-M40.
For almost 20 years now, Denon's M Series has been developed to meet the needs of modern day audio enthusiast that wants a micro size stereo system but with the least compromises on sound and build quality. The latest development comes with improved connectivity options such as two digital optical inputs to hook up a TV, set-top box or other digital gear that deserves improved audio quality. Besides its stunning stereo sound performance, the D-M40's USB port is not only capable of playing MP3 and WMA files, but also lossless FLAC, WAV and AAC. Moreover, it still provides a digitally transmitted play function for iDevices, upgrading their sound quality dramatically. For very personal listening, the new D-M40 owns an upgraded headphone amplifier section with dedicated Gain Control.
The compact size of 210mm width and just 310mm depth (plus speakers) allows for an easy setup of the D-M40 on a bookshelf, in a bedroom or in the home office. With several color combinations, it easily blends into people's daily life, delivering impeccable performance at the same time. The renowned sound quality originates from Denon's "simple & straight" concept. All circuits are uncomplicated, signal paths are short, and all adverse influences on the sound signal have been minimized. The circuit design and the way the chassis is built ensure that the sound heard is utterly faithful to the original performance, the company says.
The system will be available from June onwards, in an attractive black or silver finish for RCD-M40, in combination with SC-M40 speakers in black or cherry wood. In selected countries, there will be DAB/DAB+ tuner versions available in store.
For more information: http://www.denon.eu/
---