Phantom: Devialet's first wireless sound system.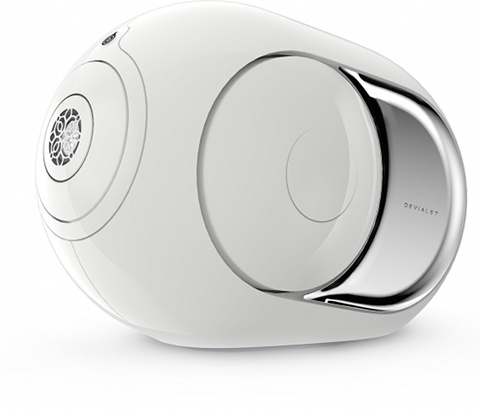 Source: Press Release, Last Accessed: 2014/12/19
Phantom is a wireless sound system that aspires to replace your stereo system, docks, home-cinema and even your main loudspeakers, featuring a range of technologies developed by this quite radical French company.
According to their corporate presentation, Phantom is a sound center, meaning, a system that receives via Wi-Fi music from your everyday devices (smartphone, tablet, computer, etc), it processes the signals and emits sound replacing your speakers. "Phantom is the best sound system in the world", Devialet says, and with a price tag around €1700,- for the lower powered (750W) standard model and €2.000,- for the high powered Silver Phantom model (with a 3kW power amp) it should be, since the product that we are talking about here is basically a high-tech boom box…
Phantom features what Devialet calls an ADH Intelligence, a powerful micro-processor that "hybridizes digital and analog technology" and it is based on an acoustic architecture called "Heart Bass Implosion". According to the details given by the company, Phantom integrates a unique system of sound creation thanks to lateral beats under a very high pressure. The spherical conception of Phantom is the perfect acoustic architecture to ensure an omnidirectional emission and a uniform sound, no matter the angle you are listening from, the company says.
Because Devialet is strongly opposed to the obsolescence of systems (something we already know from their very interesting amps), there is a clear way to continuous updates. Once installed, Phantom will upgrade constantly, enhance its internal connections, connect to other Phantoms, react to your presence and improve continually.
Phantom could be used as a stand-alone music system but, also, can be configured to operate in pairs, or in a multi-room configuration. There is a wireless hub (or audio router as Devialet calls it), the Dialog, and an app, the Spark, to facilitate the whole thing. Up to 24 Phantoms can be synchronized in a system.
Phantom uses dual-band Wi-Fi for the wireless streaming, and offers Ethernet and an optical (Toslink) input, to connect locally any compatible digital source. As far as we can deduce from their white paper, the amplifier used in Phantom is based in their ADH technology, first appeared in Devialet's seminal D-Premier and the subsequent amps. Along, the newly presented equalization technology, SAM, is used, to optimize the loudspeaker performance. D/A conversion is handled by a 24/192 Texas Instruments chip (PCM1798). Sound pressure capacity is quite high, at 99dBSPL/1m for the standard model and 105dBSPL for the Silver, while frequency response is 16Hz-25kHz (±2dB, no axis given).
For more information: http://en.devialet.com/