DVDO introduced Platinum 4K Ultra HD HDMI 2.0a PrimePass cables.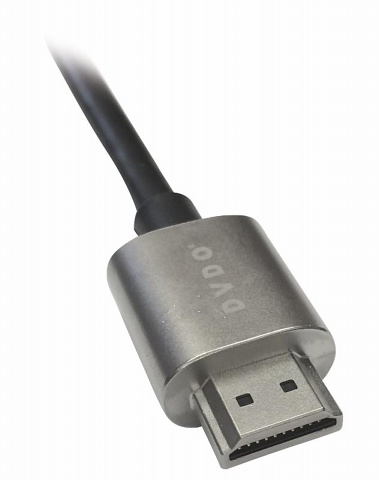 Source: Press Release, Last Accessed: 2015/09/29
DVDO announced the availability of new Platinum 4K Ultra HD HDMI 2.0a PrimePass cables to deliver highest performance and bandwidth, supporting 4K/60 resolution up to 18Gbps.
According to the press release, these HDMI 2.0a-compliant premium cables incorporate PrimePass, a rigorous testing and certification process that will guarantee transmission reliability of Ultra HD content between devices. The Platinum 4K Ultra HD HDMI 2.0a PrimePass Cable is available in multiple lengths starting at $59 retail.
DVDO's Platinum cables enable installers and consumers to future proof their home theater installations. The PrimePass certification will provide piece of mind that upgrades to HDMI 2.0a equipment will be stable and reliable despite the higher bandwidth requirements, the company says.
"Not all high speed HDMI cables will carry the latest 4K/60 resolution at 600MHz, resulting in loss of color depth, sparkles, or no connection at all when the source or display is upgraded to HDMI 2.0a," said Doug Fealtman, general manager of DVDO. "Our Platinum cables are a must-have accessory for home theater installations-even if you are just using 1080p now, these cables ensure that when you do upgrade to UHD and HDR you won't have to upgrade your cables again."
These top-class cables combine extreme shielding techniques, larger diameter individual wires, and new methods of separating individual signals within the cable to provide the highest performance with full HDMI 2.0a compatibility up to 4K/60 4:4:4.

For more information: http://www.dvdo.com/
---