Essence offers a Class D power amplifier.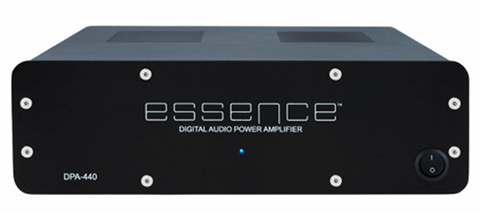 Source: Press Release, Last Accessed: 2014/11/21
According to the press release, Essence DPA-440 uses the latest Class D topology to provide a highly efficient and nearly ideal amplifier with distortion below measurement, ultra-high damping factor, and unconditional stability with any speaker.
By using the latest generation parts and thinking, the DPA-440 offers a minimum of 220W per channel at 4 Ohm loads (Essence Electrostatic speakers are 4 ohm) with reserves of dynamic power to drive even lower values of impedance. The DPA-440 is capable of up to 400 watts of dynamic power per channel at 2 ohms, offering tight, detailed sound with amazing control and transparency to deliver the best performance available, the company says.
Essence's CEO Bob Rapoport notes that "the DPA-440 is made in the USA and sells for $1299 MSRP. With its specs and audible performance, I expect it to become the new benchmark for performance and value in the amp category.".
Available in black or silver, the DPA-440 is shipping now.
For more information: http://www.essenceelectrostatic.com/
---