exaSound Upgrades Reference DACs.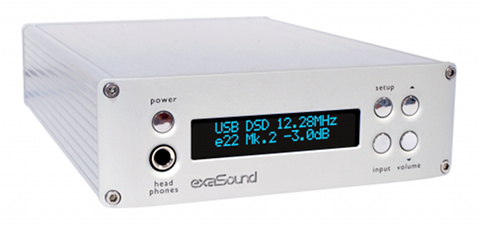 Source: Press Release, Last Accessed: 2015/04/08
exaSound Audio Design announced the second generation of their model e22 and e28 digital–to–analog converters (DACs). The e22 and e28 Mark II include both firmware and hardware improvements.
Based on ESS Technology's original premium ES9018S SABRE32 Reference integrated circuit, the e20 series are exaSound's benchmark offerings. The e20 series is designed to not only natively support currently available music files, but also formats that have yet to be released. This includes audio data up to DSD256 (DSD 4x), along with PCM files sampled at up to 384 kHz at 32 bits. exaSound pioneered multichannel delivery of DSD 4x, the highest DSD sample rate commercially available. New Mark II features include auto–power up after sleep and adjustable power down after inactivity, a maximum volume limiter when the output of either DAC is used to directly drive a power amplifier, and MP3Safe software protection against clipping caused by faulty or erroneous signal processing and data manipulation. The limiter allows the e22 and e28 to directly drive a power amplifier while protecting loudspeakers from damaging overloads.
In addition to the firmware and driver components, the hardware has also been upgraded. New features include a new, more substantial and deeply sculpted front escutcheon, the ability to switch off the display via the included IR remote, and a 12V Trigger output for the e28. George Klissarov, president of exaSound and his design team utilized the maximum potential of the current hardware platform while improving the e20 family's ability to integrate with the rest of a home Hi–Fi ecosystem.
"We listened to our customers, and included the most requested features," Klissarov said. "The Mark II update brings added fidelity guarantees and welcome peace of mind for purists wanting to simplify their signal path. Plus, the new stylish look is designer approved for any style or decor." The e22 Mark II is available now for $3499, and the e28 Mark II is available now for $3299, directly from exaSound's web site and from select fine dealers. There will be, also, an existing e22 and e28 customer upgrade option.
For more information: http://www.exasound.com
---