Flexson's VinylPlay turntable now has a shelf to rely on!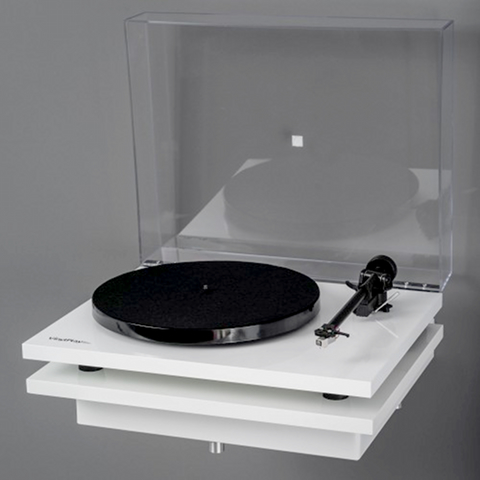 Source: Official website, Last Accessed: 2015/10/23
Flexson is giving vinyl lovers a safer, more stylish base on which to spin their beloved records, with the launch of the VinylPlay Turntable Shelf. This "floating" design is precision engineered in the UK with a steel core to provide an adjustable, anti-vibration base for turntables and other hi-fi/AV components.
The VinylPlayTurntable Shelf features a solid design with 3-point level adjustment and allows you to move your turntable away from other components, so the cartridge is less likely to suffer from electrical interference often heard as buzz and hum. Secure wall mounting reduces risk of your turntable's delicate arm/cartridge being damaged by children, pets or accidental knocks while mounting at a convenient height makes it easier to flip, change and cue your records. The shelf can securely hold up to 20kg and it is available in gloss black and white colors.
"Just as our VinylPlay digital turntable has given record players a reboot, the VinylPlay Turntable Shelf brings a smart, modern approach to turntable shelves, which were well overdue an update", says David Cain, Flexson Sales and Marketing Manager. "It's the perfect base for all kinds of turntables, plus any other component you want to benefit from the Shelf's great properties," he adds. The VinylPlay Turntable Shelf is the ideal companion for the VinylPlay digital turntable, recently chosen by New York's MoMA Design Store for its celebration of the best in British technology. The two products are color and size matched, so the turntable and shelf appear to merge into one, seamless unit.
For more information: http://www.flexson.com/
---