Geneva unveiled the Aerosphere Music System with multiroom connectivity for serious music lovers.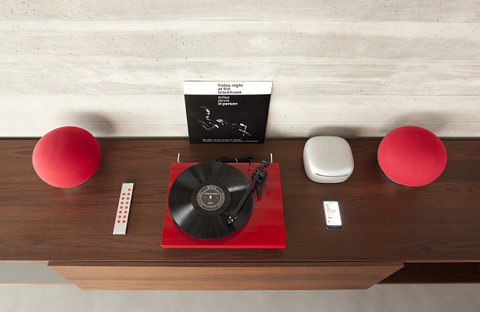 Source: Press Release, Last Accessed: 2015/06/17
Geneva's luxury AeroSphere music system blends exclusive design with inclusive multiroom connectivity for serious music lovers… Controlled via app or handset, AeroSphere is a strikingly visual and versatile multi-source, multi-room music system comprising wireless active speakers in two sizes together with an optional network connected entertainment module, which adds CD, DAB/DAB+, FM radio and a further line-in to the setup.
Music lovers seeking a design statement are sure to be seduced by the speakers' radical styling, which eschews the angular conformity of the Wi-Fi product genre for a sumptuous blend of steel and spherical polymer finished in a choice of red, white or black fabric.
Support for AirPlay, DLNA and high quality aptX Bluetooth means that music from every PC, tablet or smartphone can benefit from the full-frequency response of the sound system. Using Airplay or DLNA, multiple AeroSphere speakers can be added within network range, playing music files or Internet radio from PCs and smartphones via iTunes, Spotify Connect, Deezer etc., or peer-to-peer from Bluetooth or line-in. Thew user controls the system via the AeroSphere App for iPhone and Android and by a sleek all-aluminum remote handset.
Aerosphere comes in two flavors. The "Large" a multi-driver system enhanced by Geneva's proprietary DSP, with domed cabinet,that houses two 1-inch tweeters, two 4-inch woofers and an up-firing 6-inch subwoofer, arranged within three separate acoustic chambers and powered by dedicated amplifiers individually optimized by proprietary DSP for accurate audio reproduction. The AeroSphere "Small" is a wireless active mono loudspeaker with DSP soundstage enhancement, which can be paired to operate in stereo through the AeroSphere App. Having the form factor of its larger range-mate but approximately half the size, AeroSphere Small is conceived to extend spacious high quality sound to bedrooms and dining areas. It comprises a 1-inch tweeter and a 4-inch woofer individually chambered and driven by DSP controlled amplifiers. Both AeroSphere loudspeakers offer a stereo mini jack line input for local analogue audio sources. Finally, the AeroSphere Base is a compact, stylish app-controlled network device designed to multiply the sources available to as many as four AeroSphere loudspeakers simultaneously. With the Base on the network, CD, FM/DAB/DAB+ radio (with presets) and a further line source can be added to the system, augmenting content streamed to the speakers from PC, smartphone and tablet.
For more information: http://www.genevalab.com/
---