Gold Note unveiled New 1000 Series.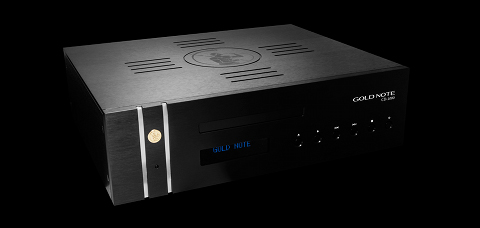 Source: Press Release, Last Accessed: 2015/08/07
The new 1000 series of electronics designed by Gold Note feature a unique modular design and high-class aesthetics created by Stefano Bonifazi the result being an exclusive line of products that -for now- includes a CD player and a power amplifier.
The CD player CD1000 features state-of-the-art digital and analogue stages, and a unique modular design exclusively created for the 1000 series. This architecture allows upgrading the main unit with add-on modules that include Class A tube output stages, an analog input and preamplifier stage, super power supplies, and Atomic Master Clocks.
CD-1000 features a transport made of solid machined steel and thick aluminum panels for low-frequency resonance and mechanical feedback control and a low-level magnetic field as well. The player includes both standard digital inputs (up to 24/192) and outputs and a USB port to stream audio files from a PC.
PA-1175 is Gold Note's first stereo amplifier ever made during their 20 years of designing electronics. The amp merges the knowledge of the acclaimed Demidoff single ended amplifiers with high power output, up to 175W per channel in 8 Ohm loads in stereo mode and up to 350W in bridged mode. The output stage uses a single-ended topology featuring 8 transistors per channel in a design derived from the Diamond Line and includes GN's optical bias regulation and the option to adjust the damping factor between 25 and 250. The last feature offers the possibility to drive both low sensitivity/difficult and easy loads, the company says.
For more information: http://www.goldnote.it/
---