Galileo: Gold Note's first audio rack.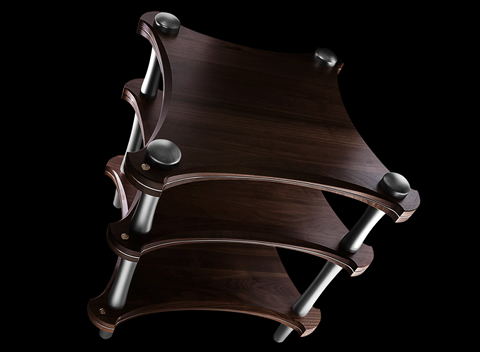 Source: Press Release, Last Accessed: 2015/08/10
The first Gold Note audio rack is named after Galileo, in honor of the Florentine genius born in the mid of 1500s, probably the most illuminated physicist, mathematician, astronomer and engineer of the 2nd millennium.
Galileo rack design combines several techniques from the best Gold Note turntables, the Bellagio Conquest and the Mediterraneo, offering both a great dampening effect and a beautiful unique Italian design, that reminds the "Monumental Staircase of the Biblioteca (Library) Vasariana" in Florence made by Michelangelo Buonarroti as well as the Michelangelo Monumental Tombs of Lorenzo Dei Medici.
The soft curved and rounded design of Galileo rack shelf angles and edges combine a great look with a superb dampening effect due to its triple layer massive Italian walnut wood interfaced with 3mm stainless steel layer, all kept together through 16 stainless bolts for a total of 25 kg weighing, 45mm thick module.
Galileo's shelf dimensions are 700x650mm allowing the handling of 100kg equipment and is offered with solid, finely machined aluminum hourglass feet with over-sized interfacing bronze inserts. The hourglass shape feet feature a great dampening effect since, due to their elliptical shape, they are better in distributing the longitudinal forces.
Galileo is a fully modular design which allows building any custom system design, starting from a single shelf up to multiple horizontal tables.
For more information: http://www.goldnote.it/
---