Gold Note introduced the A-3 XL loudspeaker.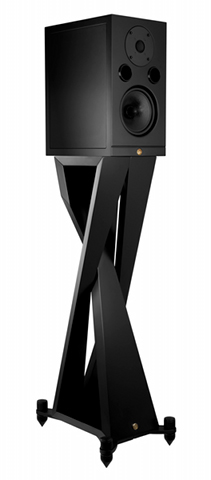 Source: Press Release, Last Accessed: 2015/02/06
According to the press release, Gold Note, with the help of two of their best designers, invested their full efforts to designing and fully manufacturing in Italy some of the nicest and most innovative speakers on the market. The A-3 XL 2 way bass reflex is a bookshelf monitor loudspeaker featuring a 6-inch treated carbon fiber and melted paper mid-woofer complementing a 1-inch elliptical silk dome tweeter.
The 6-inch mid-woofer is made by Seas under strict Gold Note specifications; it is a special treated carbon fiber with melted paper unit providing an exceptionally low, powerful frequency response yet retaining fast transient response, for enabling a very natural music reproduction. The driver is recessed by 10mm to have a horn loading allowing a greater bass extension and power though getting perfectly detailed music reproduction, the company says.
As a result of its custom design, the 1-inch elliptical silk dome tweeter features an aluminum extra rigid flange that reproduces clean and smooth high frequencies even at high volume level pressure.
The loudspeaker cabinet is tuned through two large aluminum side recessed vibrating panels a solution that, according to Gold Note, guarantees an _incredible bass extension for such a size of a loudspeaker_. The panels are fixed on the cabinet with threaded steel bars properly tuned to let them work as _Virtual Passive Drivers_ enabling bass extension, and are available in brushed black or silver aluminum finish or covered with real Italian leather.
The A-3 XL front double bass reflex design allows the speaker to be installed on a stand or even on a shelf close to the rear wall. The custom aluminum reflex tubes are designed to minimize turbulence and unwanted sound interactions enabling to play very natural though powerful and detailed.
The loudspeaker is lacquered in high quality black matte or grand piano glossy to match modern and stylish living rooms.
For more information: http://www.goldnote.it/
---