KEAS announced the premium ceramic Bluetooth loudspeaker MOV1.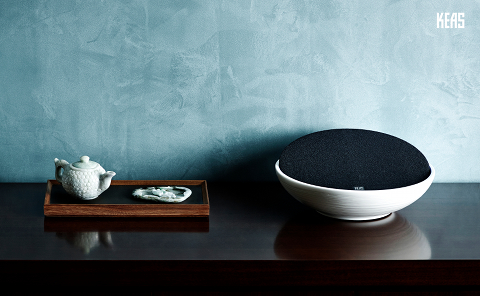 Source: Press Release, Last Accessed: 2015/10/05
KEAS launched Bluetooth speaker MOV1, the world's only premium ceramic Bluetooth loudspeaker crafted in the Korean ceramic tradition, in collaboration with Zenhakook, a global leader in ceramics technologies. According to the press release, the era of ordinary black box living room speakers is long gone. The launch of MOV1 introduces a revolutionary concept in speaker sound technology that will transform and enhance any living space with its innovative approach to the ordinary loudspeaker, combining the loudspeaker technology with ceramic art and rich fabric colors.
Unlike other Bluetooth loudspeakers in the market today, MOV1 by KEAS has introduced the blending of ceramics with sound technology that is unlike anything the audio market has seen before. The ceramic base alone is produced by a rigorous baking process, enduring a two-time baking procedure in a 1200-degree kiln, with another baking round in 1000 degrees (the kiln is a thermally insulated chamber, like an industrial oven, used to process some materials which need high temperatures to cure, hardening or drying). This 300 hour/20 step process produced with more than 3.1 kg of high quality clay allows for the ceramic base to enhance the lasting durability of the stoneware material without the fading of the colored finish.
What is apparent at first glance of MOV1 by KEAS is its unique and compelling presence in any room or setting as a distinct piece of art that can enhance the sense of luxury any interior space, the company says. Moving beyond the vintage trends of product design that dominate the home appliance market, KEAS redefines the charm of the analogue sensibility, brought together with the master touch of the ceramic craftsman.
Recognized for this innovative step, KEAS MOV1 received the Design Concept Award at the world renown Red Dot Design Awards (2015). The design was led by Damian Kim, a former designer for global electronics companies, including Samsung and Philips. KEAS also consulted with Kook Hyun Chung, the former chief of design management at Samsung Electronics, and Dong Min Ahn of Intergram. MOV1's ceramic base was produced with Zenhakook, a longstanding industry leader in ceramics with business associations with America's Lenox, England's Marks & Spencer, Germany's Villeroy-Boch, and Japan's Noritake, among others. The speaker's fabric grill cover is produced with Maharam's prestigious fabrics that allows for interchangeable covers that come in various styles and colors.
Sound quality was not overlooked in the design of MOV1. The loudspeaker boasts a Peerless driver, Denmark's renown sound technology brand founded in 1926. MOV1 comes in four color combinations: Black & Red, Black & White, Orange & Grey, and Cobalt Blue & White.
For more information: http://www.keas.co.kr/
---