New British Hi-Fi company Kleio Audio unveiled their first amplifiers.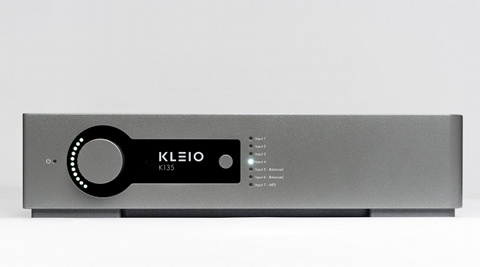 Source: Press Release & Official Website, Last Accessed: 2015/08/21
After three years in development, Kent based manufacturer Kleio Audio is launching with the introduction of its first range of high quality electronics. The K1 series is designed to engage with audio and music enthusiasts to make them want to re–connect with their music collection and reconsider the importance of a high-end audio solution.
Founded in 2012, Kleio 's focus is on manufacturing high quality, great sounding products in the UK. According to the press release, managing director Garry Wise formed the business with the philosophy that, "It is paramount people feel a Kleio product makes them want to really listen to and enjoy their music."
Wise has assembled a carefully selected team of experts to help make the concept a reality. Chief audio designer John Cheriton has been involved in the electronics industry since 1978 and is responsible for the preamplifier circuitry and innovative power configurations. The careful selection and sourcing of the electronic components was overseen by team member Philip Saunders and software and audio engineer Simon Coachworth, while the aesthetic vision comes from a design house with many years experience of industrial design for the broadcast and professional audio industry. Nick Ebdon, graphic designer, is responsible for creating the visual brand image, including website, advertising and packaging.
The first products to come from of the company are the K105 and K135 (pre- and integrated amps), which will be available in dealers from late September and they made their first public appearance at the National Audio Show, Whittlebury Hall.
The K105 is built on the basis of solid engineering practices, which include the use of relay switching throughout and short signal paths. The preamp is built using carefully selected components before being hand soldered at Kleio's dedicated manufacturing facility in Kent. There are multiple connection options, including 4 sets of RCA inputs, 2 sets of balanced inputs and a 3.5mm connection. A selection of line level outputs are also provided, one set of which is balanced. The preamplifier can be switched on and off by pressing the volume control. The stylish design is completed with attractive white LED's displaying both chosen listening level and selected input.
The K135 is based around the same solid engineering principles as used in the K105 preamplifier, including the use of relay switching throughout and short signal paths. The amplifier is fitted with three sets of outputs plus multiple inputs including 2 sets of balanced inputs and a 3.5mm connection. A high quality Class D power amplifier is used to provide 2x65w (at 8 ohms) of power.
For more information: http://kleioaudio.com/
---