Klipsch expands the flagship X Series in-ear headphones.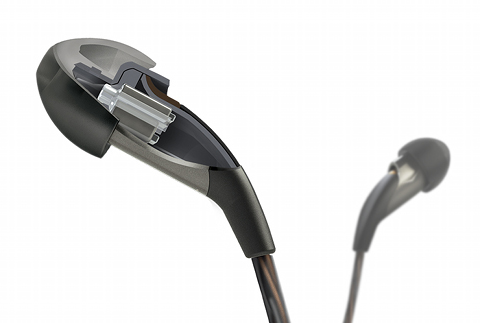 Source: Press Release, Last Accessed: 2015/11/12
Klipsch announced the expansion and launch of its X Series headphones complete with the all-new X20i, X12i, XR8i hybrid and X6i models.
Each X Series model is equipped with patented oval ear tips for which Klipsch is known, providing endless hours of comfortable wear. Unlike circular-shaped ear tips that put stress the pressure points inside the ear, Klipsch's patented oval ear tips naturally fit the contours of the ear canal, providing comfortable long-term wear. These ear tips also offer superior noise isolation (or passive noise-cancellation), blocking out almost all ambient noise and providing excellent bass.
The flagship Klipsch X20i in-ear headphone is powered by a true two-way dual armature design for broad bandwidth, and a high-resolution super tweeter for transparent sound. Crafted from injection-molded surgical-grade stainless steel and available in a black stainless finish, the Klipsch X20i is the brand's most durable in-ear headphone. Accessorized with interchangeable cables and a leather carrying case, the X20i's audiophile-grade performance delivers the Klipsch sound signature at its best, the company says.
Originally launched in January 2010 as X10i and August 2013 as X11i, the next generation of this award-winning model is the Klipsch X12i in-ear headphone. The X12i model's small form factor employs a ported and vented audiophile balanced armature driver that delivers classic tube amplifier sound and deep bass. The Klipsch XR8i is the first hybrid in ear monitor and is optimal in both sound and comfort. Through the use of a unique carrier and a single nozzle Klipsch says that managed to decrease distortion and interference between the woofer and tweeter. To address comfort, XR8i model's die-cast zinc housing uses a pinched oval shape and offset nozzle, which is optimized to contour the shape of the ear. The Klipsch X6i features a single-full range armature and provides a razor-flat frequency response and high-clarity reference sound while fitting comfortably in the ear canal, all at a reasonable price in the line up.
The X Series model's audio works with virtually any device that has a standard 3.5mm headphone jack; however, the mic and three-button remote support selected Apple products. Included with purchase are several different-sized oval ear tips, a protective carrying case, clothing clip and one-year warranty.
For more information: http://www.klipsch.com/
---