Μ2Τech's new Evo Two series.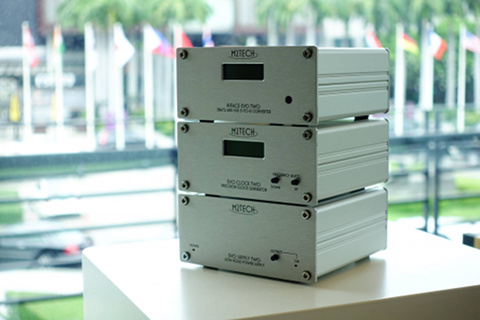 Source: Official Website, Last Accessed: 2015/09/02
M2Tech recently announced a series of new products named Evo Two. The new series includes the hiFace Evo Two USB digital interface, the Evo Clock Two Word/Master Clock and a new, external power supply, the Evo Supply Two.
The hiFace Evo Two is a USB 2.0 Audio Class compliant interface and supports ASIO under Windows and Integer Mode under OSX. It is supported natively under OSX and Linux and can be powered by the USB bus or by an external power supply like the Evo Supply Two. Its output set includes S/PDIF, AES/EBU, Toslink, and I2S in PS Audio standard. Supported formats include PCM up to 384kHz (on I2S only, up to 192kHz on all other outputs) and DSD up to 256x (on I2S only). The external clock input accepts word clocks as well as master clocks, even asynchronous to the selected sampling rate. Sampling frequency information are sent out by an optical transmitter to the clock generator for automatic clock switching. An auxiliary S/PDIF input allows for sending digital audio data to the computer for recording, as well as for sampling rate conversion through the internal SRC. An LCD display shows all settings, together with the selected sampling frequency. All settings, as well as HID features, are set by a remote control.
The Evo Clock Two is a high precision Word Clock and Master Clock generator, which is perfectly tailored to the hiFace Evo Two, but, also, can work perfectly with many other devices accepting a word clock signal. Its internal high stability and low phase noise TCXO's is routed and divided by a high precision clock conditioner normally used for digital data transmission over satellite links. Automatic frequency selection is performed when the Evo Clock Two is connected to the hiFace Evo Two by the dedicated optical link. Various clocks arrangements are available to accommodate PCM and DSD setups. A 10MHz master clock option can be selected to work with all those DAC's which accept the standard 10MHz master clock Manual frequency selection is done by two buttons.
The Evo Supply Two is a very low noise 9V power supply dedicated to the Evo Two Series products. It is provided with three outputs which deliver clean current from a low noise, discrete regulator. Outputs are switched with a relay operated by a button on the front panel. Over-current protection is included on each output. The very-low-noise regulator features the same basic design as the Van Der Graaf, M2Tech's top external power supply, ensuring a residual noise which rivals that of the best high current batteries, with the bonus of a very long trouble-free life.
For more information: http://www.m2tech.biz/
---