Magico unveiled the new Q7.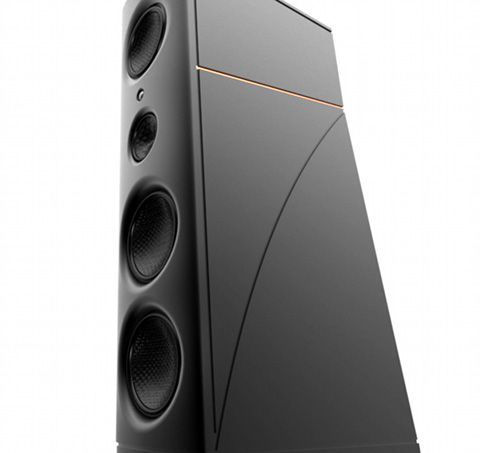 Source: Press Release, Last Accessed: 2015/02/09
With their continued passion and commitment to excellence, Alon Wolf and his team of engineers recently announced the new Q7 Mk II. The new loudspeaker was inspired by some of the new technologies unveiled in the limited-edition M-Project which results in significant improvements to the overall sound performance. Notable changes are found in the tweeter, midrange, and crossover. According to the press release, these improvements will ensure the Q7 Mk II remains Magico_s supreme accomplishment, and the company's flagship model.
The Q7 Mk II incorporates a new, more efficient, version of the revolutionary tweeter found in the M-Project. A 28mm diamond-coated beryllium diaphragm with optimized geometry, created using state-of-the-art finite-element-analysis modeling tools, brings the Q7 Mk II's high-frequency reproduction one step closer to perfection. This was achieved by skillfully leveraging beryllium's physical properties and the new tweeter is closer to the theoretical ideal, yet without gaining the extra weight normally associated with diamond_s specific gravity, Magico says. This new technology enables to increase the dome diameter to 28mm (vs. the previous 26mm), improving many aspects of performance while offering even greater power handling. This new technology, combined with a new motor system and new acoustically improved back chamber, results in the lowest distortion measurements possible today in a high-frequency transducer.
The Q7 Mk II will have a new 6-inch midrange driver that features a new Graphene-based cone material from Magico. This new cone is 30% lighter and 300% stiffer than its predecessor and this is the first commercial use of such an advanced composite, the company says. The driver utilizes an under-hung neodymium based motor system with an extra large magnet and a top stabilizing magnet to ensure a perfectly stabilized magnetic field of 1.7 Tesla in a 15mm air gap, culminating with a pure vented titanium voice coil. The latest 3D laser scanning techniques were used to allow for unparalleled precision in assembly, ensuring optimal behavior in each driver_s frequency range while reducing non-pistonic motion and minimizing distortion components. The midrange driver has a ±6mm of stabilized excursion rate at very high sensitivity, enabling 120dB (at 1m) of distortion-free playback in the midrange frequencies.
The Q7 Mk II will feature the latest state-of-the-art parts from Mundorf of Germany, including the new, amazing, MCap Supreme Evo capacitors.
Magico announced an upgrade path that includes a new tweeter, new midrange, and new crossover. Also, the faceplate requires re-machining to accommodate the new, larger-sized tweeter, therefore, the upgrade could me made only at the factory.
For more information: http://www.magico.net/
---