New McIntosh transport reveals just how good SA-CD/CD can be!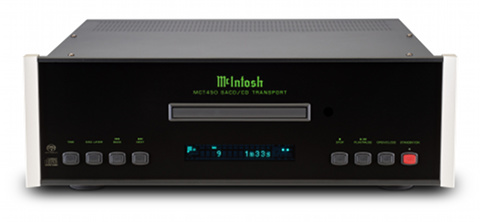 Source: Press Release, Last Accessed: 2015/03/27
McIntosh Laboratory has launched the new MCT450 SA-CD/CD transport — a high-performance disc-spinner designed to complement any McIntosh product with a digital input. It has been engineered to deliver the optimum performance from CD and SACD media when partnered with its digital-input McIntosh stablemates, including select A/V processors, integrated amplifiers and preamplifiers, the company says.
The MCT450 offers digital balanced (24-bit/192kHz), coaxial (24-bit/96kHz), optical (24-bit/192kHz) and DIN outputs for complete flexibility when connecting to partnering system components. For optimum SA-CD playback, the MCT450 also employs a DIN output for connection to select McIntosh models (with a DIN input), such as the new D150 digital preamp launched at CES in January 2015.
The transport is compatible with all common disc types including: SA-CD, CD, CD-R and CD-RW (MP3 and WMA). A twin-laser optical pickup assures optimal disc-reading, while 2x read speed provides improved data-reading from damaged discs.
Further features include a premium aluminum die-cast CD tray, plus power control and data ports to control the unit's operational state via other McIntosh system components. The entire unit is housed in a classic McIntosh-styled polished stainless steel chassis with a black- glass front panel and brushed aluminum end caps.
For more information: http://www.mcintoshlabs.com
---