Brooklyn: Mytek's new DAC-Headphone Amp-Phono/Line Preamplifier.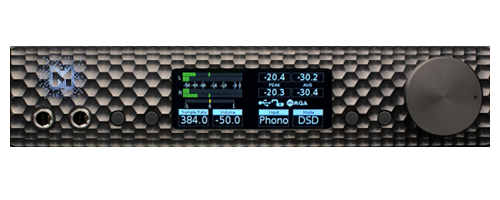 Source: Press Release, Last Accessed: 2015/11/06
Brooklyn is a reference USB2 DAC, line and phono analog preamplifier and a reference headphone amplifier which integrates both digital and vinyl hi-res playback for reference listening on headphones and monitor loudspeakers.
The d/a converter supports streams up to 384k, 32bit PCM, native DSD up to DSD256 and DXD, offering an 130dB dynamic range. The converter also includes a certified hardware MQA decoder to support the new file container proposed by Meridian.
Brooklyn offers a USB2 Class2 port (OSX driver-less, all formats), as well as standard digital inputs, including AES/EBU (PCM up to 192k, up to DSD64 DOP), two coaxial S/PDIF capable of PCM up to 192k and DSD up to DSD64 through DOP, optical Toslink/ADAT, and SDIF3 for DSD up to DSD256. The system is clocked through a Mytek Femtoclock Generator, a solution that offers a very low internal jitter figure, at 0.82pS. There are both Wordclock input and output to allow stacking multiple units for multichannel operation, including multichannel DSD.
Analog outputs include single ended RCA, balanced XLR and dual TRS headphone jacks. The Brooklyn includes a "Reference High Current, High transient Headphone Amp", capable of 500mA/6W and "designed to drive hard to drive headphones", the company says.
The user can choose between an 1dB step analog attenuator, separate for main out and headphones, an 1dB step digital 32 bit attenuator and a purist relay bypass signal path. The analog preamplifier includes both line level and phono (MM/MC) relay controlled inputs. All digital inputs can be routed into computer via USB2, allowing the connection of external digital sources such as CD Players and digitizing ADCs.
For more information: http://mytekdigital.com/
---