NAD's new Masters Preamplifiers and Power Amps.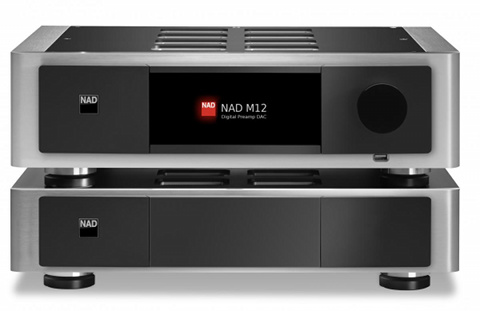 Source: Press Release, Last Accessed: 2014/12/15
NAD Electronics new Masters Series comprised of four reference models that continue the company's direction forward in digital music reproduction and are already available. Series includes two power amps (a 2-channel and a 7-channel model), a DAC/Preamp and a surround sound AV Preamp.
The M12 Direct Digital Preamplifier DAC ($3499) and M22 Hybrid Digital Power Amplifier ($2999) combine to create a completely new approach to high performance audio. Modular Design Construction places all inputs and associated hardware on user replaceable modules that can be easily changed and upgraded over time. This reference quality system connects to all high quality formats, past and present, and can even evolve to future yet to be developed formats and features.
Videophiles are not forgotten as the M17 Surround Sound AV Preamp Processor ($5499) and M27 Seven Channel Power Amplifier ($3999) bring a new level of dramatic impact and performance to advanced Home Theatres, NAD says. MDC assures compatibility to UHD video sources and next generation of surround sound formats as they evolve. The M27 Power Amplifier featuring nCore technology sets new standards for audio performance, yet is compact and energy efficient.
For years, NAD has been widely recognized as a pioneer in digital audio reproduction. For example, their Masters Series has redefined high-end audio by introducing the world's first closed loop digital amplifier with performance exceeding analog equivalents and leading to an entirely new system architecture. With the inclusion of BluOS, the powerful wireless multi-room Bluesound software for music management, this innovative collection of products downloads, stores and streams music, including 24/192 HD music downloads.
M12 Direct Digital Preamplifier DAC is a high resolution digital audio hub featuring 24/192 Asynchronous USB connectivity as well as NAD's DirectDigital processing. The M12 also features MDC (Modular Design Construction), which eliminates obsolescence by providing an upgrade path via plug-in modules to add future features and functionality.
The M22 is a 2x250 watt design featuring the latest nCore amplifier technology licensed from Hypex. The M17 features Dolby TrueHD, DTS Master Audio and NAD's innovative EARSTM (stereo-to-surround) circuits and offers fully balanced audio outputs with separate linear supply for all seven channels. M17 also features MDC and includes six HDMI Inputs and dual HDMI Outputs with CEC for the primary monitor.
Finally, the M27 is a multichannel power amplifier capable of 7x180W output with all channels driven and dynamic power in excess of 300 watts. The M27 can accept both balanced and single-ended inputs, and features high-quality binding posts for speaker connection. Compact and energy-efficient, the M27 also features nCore technology, fully balanced audio and NAD's famous PowerDrive circuit that delivers very high dynamic power and low impedance drive to accurately control loudspeakers.
For more information: http://nadelectronics.com/
---