HP30: A new headphone in NAD's Viso series, features RoomFeel.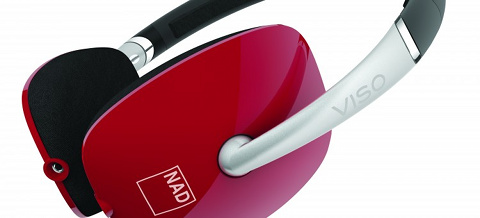 Source: Press Release, Last Accessed: 2015/08/17
NAD announced another high-resolution model in their VISO Series, the HP30 on-ear headphone, a lightweight, folding, on-ear design for superb comfort, compact size and convenience for music lovers on-the-go.
With memory foam ear pads for both comfort and noise isolation, the HP30 includes innovative RoomFeel technology for deep bass and an immersive, lifelike sonic experience, the company says. The headphone also features a convenient Apple 3-button multi-click remote with microphone so it can be enjoyed hands-free while multitasking or simply on-the-go. An extra stereo cord is included at no charge. Both cables are tangle-free, ribbon-style and detachable for quick changes and/or replacement.
According to the press release, at the heart of the HP30 is a pair of ultra-low mass, high excursion 40mm drivers optimized for on-ear architecture for tight, articulate bass and natural sound. Internal wiring is OFC (Oxygen Free Copper) for maximum signal transfer and minimal loss.
Voiced for a flat response, the HP30 headphone was developed by Paul Barton noted speaker designer from sister company PSB. Working at NRC (the National Research Council of Canada) and using the KEMAR dummy head testing system, Barton discovered the addition of low frequency room gain that one would expect to hear with normal loudspeakers in a room. This is the same room gain compensation transfer function that was developed in the Athena Project at NRC. The transfer function NAD developed for their HP30 headphone takes into account this "room gain" and the result is a much richer and more natural listening experience.
The HP30 was ergonomically designed to be comfortable even when worn for long periods of time. The ear pads utilize memory foam to adapt to the shape of the user's ears for comfort as well as to provide a good acoustic seal for sound isolation. A special folding design provides a compact size for travel and storage.
VISO HP30 will come in a choice of stylish red, white or back gloss finishes and supplied with a neoprene travel case and aircraft/stereo Adapters.
For more information: http://nadelectronics.com/
---