NVO announced SPA One and SPA-II/2 Special Edition versions.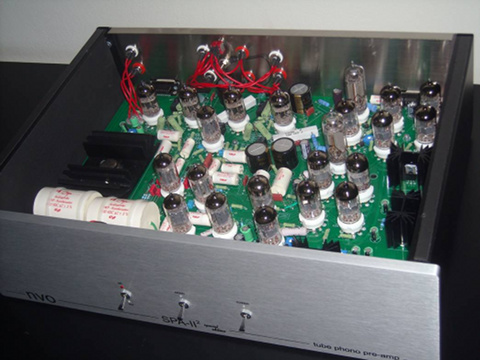 Source: Press Release, Last Accessed: 2014/12/15
NVO recently announced the special edition versions of their phono amplifiers, SPA One and SPA-II/2. Both versions will be available in small quantities and will include high quality passive components, top quality internal wiring and tube holders with gold plated connectors.
According to the press release, both models make use of Japanese Kiwame resistors matched to 0.1% tolerance, Mundorf MKP capacitors and Nichicon EL capacitors.
Enclosures have been improved by using 10mm aluminum front plates (now on all units including the SPA One and the power supply of the SPA-II/2). The chassis panels are internally damped with sound absorbing material while the PCBs are isolated from the main chassis via shock absorbing blocks to minimize tube microphony.
NVO also says that some circuit and grounding upgrades have been made on both units, resulting in extremely low noise, more linear and wide frequency response and increased dynamic range.
The top of the line SPA-II/2 SE now has inputs for two cartridges, and can be fully and accurately adjusted for any MM or MC cartridge (either of low or high output).
Estimated retail price of the SPA-II/2SE is around $ 10,000 (for the US market). Price for the SPA One has not yet been set, but it is estimated to be around 55-58% the price of the top of the line SPA-II/2SE.
For more information: http://nvoaudio.blogspot.gr/
---