Easy-to-Use Onkyo AVRs deliver Next-Gen Home Entertainment with High-Current Power.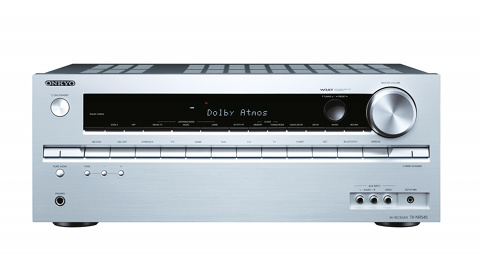 Source: Press Release, Last Accessed: 2015/04/17
Collaboration between two world-famous home entertainment brands in a newly established Onkyo & Pioneer Corporation has resulted in two new audio-video products with unrivaled features and performance at an affordable entry-level price.
The Onkyo-branded 5.1-channel TX-SR343 and 7.2-channel TX-NR545 A/V receivers deliver seamless and captivating surround-sound for movies and games while having power, sensitivity, and control to play physical or streamed stereo music with dynamic precision.
The TX-NR545's discrete 120 W/Ch high-current amplification system extracts ultimate performance from the new Dolby Atmos audio format, which places sound-objects in multidimensional space around the audience for an astonishingly realistic movie or gaming experience.
As well as being the most affordable Onkyo receiver to support Dolby Atmos, the TX-NR545 boasts Wi-Fi, AirPlay, and Bluetooth technology. Users can stream direct to the receiver using the Spotify Connect application, or stream audio stored on mobile handset and online music services using the Onkyo Remote 3 control app.
Native support for DSD 5.6 MHz and 192/24 Hi-Res Audio via DLNA with smartphone control is also included, with an upgraded 384 kHz/32-bit AK4458 DAC from Asahi-Kasei using unique digital filtering technology to reduce noise and jitter for transparent and lifelike sound.
On the video side, both receivers feature 4K/60 Hz-compatible HDMI 2.0a terminals with dedicated HDCP 2.2-ready HDMI inputs for streamed or optical-disc-based UltraHD video.
The TX-NR545 also features a USB port supporting multiple audio formats via flash-memory device, AccuEQ room acoustic correction to calibrate and equalize the speaker system, and HDMI-overlaid OSD with Quick Setup for adjustment of settings without having to pause the program.
Onkyo recognizes that for some consumers, setting up and using their first A/V receiver can be intimidating. So it took a clean sheet of paper when designing the TX-SR343—the company's latest base-model A/V receiver. Firstly, the rear panel has been completely revamped with input and output terminals clearly labeled and illustrated for easy setup. Because the receiver up-converts analog video, all media players (including VCRs and legacy gaming consoles) can plug directly into the receiver, with all video routed to the display via a single HDMI cable. As well as reducing connection complexity, users no longer have to put up with unsightly, dusty cables running to a wall- or stand-mounted flat-panel display.
Users can add full wireless audio and video streaming capabilities simply by purchasing an aftermarket dongle (such as the Google Chromecast) with a dedicated rear-panel USB port supplying 5 V power to the device. Adding to this capability is inbuilt Bluetooth with DSP Music Optimizer to enhance lower-quality compressed audio streamed from smartphone applications or PC. Offering DTS-HD Master Audio and Dolby TrueHD decoding as well, with 100 W/Ch of discrete high-current amplification, the TX-SR343 comes with all the features expected of a modern A/V component, including a high-quality TI Burr-Brown DAC, multiple DSP listening modes, Virtual Surround mode for 2.1-channel setups, and ample connections for media players.
For more information: http://www.onkyo.com/
---