Peachtree's nova220SE integrated amplifier.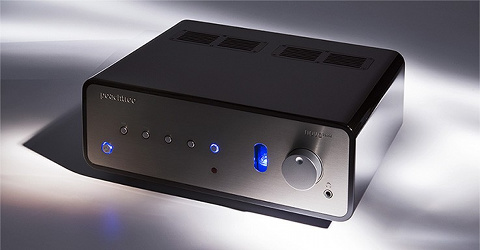 Source: Official website, Last Accessed: 2015/04/01
The nova220SE is an integrated amplifier, DAC, and headphone amp all rolled into one, a combination of high output power, transparent sound, and digital and analog connectivity that makes it simple to enjoy all of your music with uncompromising quality.
Peachtree Audio differentiated the nova220SE from the nova125SE and nova65SE by offering a more powerful design along with a dual-mono balanced topology, the nova220SE being the only model of the series to feature those characteristics. As a result of this approach, the nova220SE has the widest dynamic range, the lowest distortion and the biggest sound of all the novaSE integrated amps.
With five inputs, including 24/192 Asynchronous USB, the amplifier offers both computer and streaming high resolution audio, featuring a matching 24-bit/192kHz DAC with reclocking to minimize jitter. There are, also, both optical and coax digital inputs to upgrade digital music streamers like Sonos and Apple TV or to connect your old-fashioned cd player to upgrade its sound. Apart from the digital inputs, nova220SE features analog line-level inputs for your turntable/phono preamp, tuner, SACD player, an audiophile-quality headphone amplifier and a selectable triode tube buffer stage for all the listeners that are in love with the tube sound.
The power stage of the amplifier is capable of 220W per channel in 8 Ohm loads and 350W per channel in 4 Ohm loads, more than enough for the majority of loudspeakers out here.
Additionally, nova220SE could be paired with the new optional BT1 aptX Bluetooth Music Receiver, the easiest way to bridge a smartphone or tablet to a Peachtree system. Compatible with both iOS and Android devices, allows the user to stream audio from all of his favorite apps like Spotify, Pandora, Sirius XM, TuneIn Radio and more. The BT1 is designed to work perfectly and easily with all Peachtree Audio SE series integrated amplifiers.
For more information: http://www.peachtreeaudio.com/
---