Audiant VP3: Perreaux unveiled some details about their new phono preamplifier.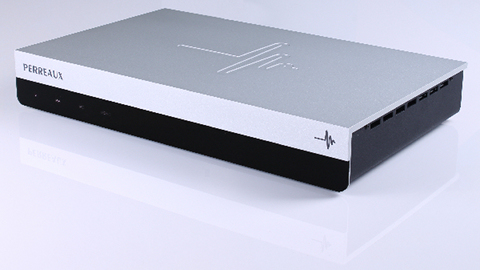 Source: Press Release, Last Accessed: 2014/12/09
The New Zealand based hi-end audio manufacturing company celebrating 40 years in business recently announced the new Audiant VP3, a phono preamplifier specifically developed to meet customer demands for higher quality, yet compact products.
According to the press release, Perreaux has historically embraced the minimalist ethic from an audio design perspective only. The concept of "less equating to more" has been at the heart of all their audio designs for more than a quarter of a century. Their current product line takes the minimalist ethic to new levels by totally embracing the concept by keeping the components and signal path as uncluttered, short and clean as possible.
The Audiant VP3's slim and stylish looks befits any quality listening environment. The cover and front panel is made from highest quality, solid 12mm thick aluminum extrusion, with a bead blasted and clear anodized finish. The cover also features their trademark machined Perreaux logo. On/off, turntable input selection and status are provided via a discreet touch-sensitive panel with white LEDs. Minimalist styling cues combine seamlessly to allow form and function to blend in harmony and are typical hallmarks of the Perreaux brand.
Two fully independent inputs are provided which will facilitate simultaneous running of 2 turntables with front panel touch input selection between them. Both high and low output cartridges (moving magnet and moving coil designs) are catered for.
Special attention has been lavished on the printed circuit board layout. The VP3 is symmetrical in design (left and right channel DIP switch numbers, are a mirror of each other, as well as the input/output RCA configuration), with each channel being completely isolated from the other. Particular care also has been given to printed circuit board ground planes to ensure sonic purity. All signal grounding is also isolated from mains earth.
The VP3 features an internal low noise, custom designed, power supply which is physically segregated from the rest of the electronics that could be noise-sensitive. Perreaux has specially developed an overrated, fully shielded, internal toroidal step down transformer as the main element in the phono supply. Special attention has also been given to capacitance smoothing, RF and EMI filtration. The company says that this approach results in a "rock-solid", low noise, highly linear, regulated DC supply.
The VP3 is highly flexible. The user has no need for MM/MC jumpers as any type of cartridge can be matched via the external selectable DIP switch settings, enabling any cartridge to be used. In total there are 6 banks of rear mounted dip switches (36 dip switches in total) for full simultaneous customization of all cartridge values on both turntable inputs.
The RIAA equalization features high precision, low noise resistors and highly linear, metallized polyester capacitors for optimum signal transfer. Deviation from the RIAA specification is only ±0.5dB across the audio-band. With both Normal and IEC RIAA equalization curves to select from, the preamplifier offers the optimum for any record collection. The VP3 features both single ended and balanced outputs.
For more information: http://www.perreaux.com/
---