Pioneer introduced new Dolby Atmos enabled SC-91 Elite AV Receiver with 4K UltraHD and wireless capabilities.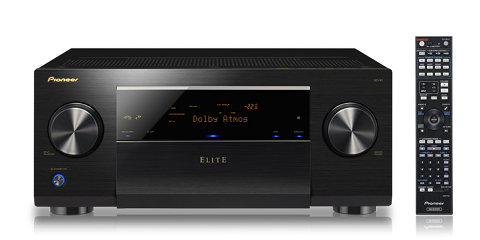 Source: Press Release, Last Accessed: 2015/06/21
Pioneer introduced a its new SC-91 Elite SC receiver, featuring support for Dolby Atmos, MCACC Pro and a Class D3 amplifier for simultaneous high-power output on all channels. The integration of these technologies creates a highly immersive playback environment from Dolby Atmos as well as your existing content.
When handling video, the SC-91 supports 4K/60p/4:4:4 video signal transmission with HDCP 2.2 copyright protection technology so that the receiver is compatible with the multitude of upcoming 4K UltraHD sources that are heading consumers way. The SC-91 has a host of wireless capabilities, while dedicated smartphone apps Start-up Navi and iControlAV5 let anyone easily and intuitively configure and control their home entertainment system.
The SC-91 delivers seven channels of Elite Class D3 amplification for a total of 660W multichannel simultaneous drive. Rated at 130 Watts per channel (8 ohms, 1kHz, THD 0.08%, 2ch Driven FTC), this is significantly more simultaneous multichannel power than the Class AB competition, the company says.
MCACC Pro takes Multi-Channel Acoustic Calibration (MCACC) a step further. In addition to automatically compensating for speaker size, level and distance to the listening position as standard MCACC does, MCACC Pro analyzes and corrects the phase and group delay characteristics that are caused by the filtering systems in the speakers. This adjustment is also performed between different channels, to provide a smooth flow. Additional features include independent correction for dual subwoofers, and speaker position adjustments in 1-millimeter increments. For all channels, MCACC Pro corrects phase differences in the original audio, as well as the sounds emitted from the speakers.
The SC-91 is equipped with the SABRE ES9006S Premier Audio DAC, a digital-audio converter manufactured by ESS Technology exclusively for audio equipment. A new power supply transformer reduces magnetic flux noises while a new insulator suppresses external vibrations. With special tone-tuning, it delivers natural and smooth sound in high quality. The receiver supports 192 kHz 24-bit 2ch WAV, FLAC, AIFF, ALAC, and 96 kHz 24-bit multichannel WAV and FLAC files. Compressed formats, such as MP3, WMA, and AAC are also supported. Serious listeners will appreciate 2.8 MHz DSD direct playback via network or SACD disc playback via HDMI. The new Elite receiver supports Wi-Fi, Bluetooth and AirPlay streaming, and offers vTuner supported Internet radio streaming and access to Pandora and Spotify services as well.
Pioneer's SC-91 Elite SC receiver is now available for a MSRP of $1,100.
For more information: http://www.pioneerelectronics.com/
---