Questyle Audio introduced personal music servers, DAC/Amp combos and wireless amplifier systems.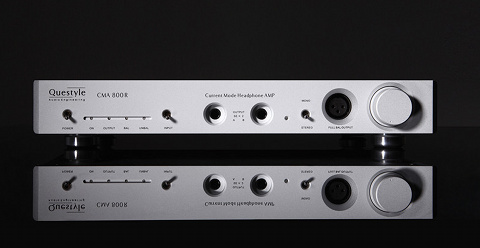 Source: Press Release, Last Accessed: 2015/03/27
The company now offers the brand new QP1 and QP1R portable music server/digital audio players, the CMA800R headphone amp, the CAS192D DAC, the new CMA800i and the affordable Q192 DAC/Amps and the 5GHz Wireless Amplifier system.
Questyle Audio's QP1 ($599) and QP1R ($899) up the ante for portable music servers or DAPs with patented Current Mode amplification technology from a built-in high-end headphone amplifier and a world class DAC and music server with two Micro SD Card storage expansion slots that support up to 256 GB over the already generous internal memory (16GB for the QP1 and 32GB for the QP1R). Both players are presented in an elegant champagne gold or space gray aluminum trimmed and glass finish, with a simple and intuitive GUI interface.
The CMA800R headphone amplifier offers Questyle's patented Current Mode Amplification technology, and further redefines the state of the art by being the first headphone amplifier supporting a dual mono full balanced configuration. While in full balance mode, distortion levels drop to less than 0.00026% making the CMA800R a force to be reckoned with in terms of design and performance. The CMA800R includes balanced XLR and RCA inputs/outputs and is available now for $1,999.
Complementing the CMA800R, is the CAS192D converter, the world's first USB DAC supporting True DSD. The DAC is designed to process DSD files in their native bit-stream format without conversion to PCM or breaking up the bit-stream into 16bit packets and compressing it into 24bit PCM packets (DoP). In PCM mode, CAS192D still provides five switchable digital filters, in which the IIR (MP) filter eliminates pre-ringing. CAS192D is available now for $1,999.00.
Also, utilizing the patented current mode headphone amplification technology is the Q192 Desktop Amp/DAC. The Q192's USB port adopts a unique 3x Clock structure, ensuring the DAC obtains first class sound performance by reducing jitter to undetectable levels, the company says. Apart from USB input, Q192 is also equipped with standard coaxial input and output, both supporting 24bit/192KHz transmission. Q192 is available for $799.
An evolution in wireless audio, Questyle Audio's 5G wireless amplification system sends audio signals in the 5.2GHz/5.8GHz frequency, avoiding the 2.4GHz range and achieving the most stable transmission. The series includes three models: the T2 transmitter and R100 (2x50W Stereo) and R200 (200W Mono) wireless amplifiers. The T2 integrates a control preamp, with a 5GHz wireless transmitter, includes a 24bit a/d converter for the analog input, and is able to support up to 8 receivers. The R100 wireless amplifier is a combo including wireless receiver, DAC and amplifier that can easily drive a pair of bookshelf speakers. The R200 wireless amplifier is a 200W mono block that integrates a wireless receiver, DAC and ICEpower amplifier. Two R200 amplifiers can share one T2 transmitter and with its 20A current output capacity, the unit can easily drive high-end power consuming speaker systems. R100, R200, T2 and R2 are available now for $999.00 each component respectively, or $3,000.00 for a pair of R200's or R100's and a T2 Transmitter/Preamp all packaged neatly in a durable Aluminum road case.
For more information: http://www.questyleaudio.com/
---