Rega unveiled the "Queen" special edition turntable, just in time to coincide with the group's 18 disc box-set "The Studio Collection".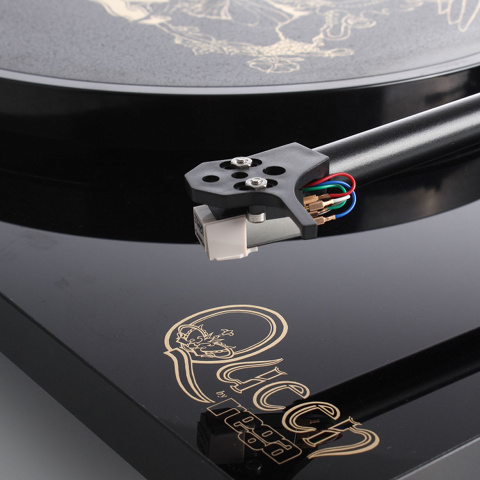 Source: Official website, Last Accessed: 2015/08/29
Rega recently unveiled the "Queen by Rega" custom turntable after been approached by legendary rock band Queen to produce a limited edition (fully licensed) product to coincide with the release of their 18 piece 180g vinyl LP box-set containing all 15 hit studio albums sourced from the original master tapes mastered by Bob Ludwig and cut at Abbey Road studios.
The design of this unique custom turntable includes reproductions of classic Queen logo's, and incorporates the tonearm technology of the multi-award-winning plug and play Rega turntables. Both brand and band are quintessentially English and the combination of engineering and musical achievements make for a perfect match.
The Queen turntable is a brand new product designed specifically for Queen and features a custom designed high gloss acrylic laminated plinth silk screened with "Queen by Rega" logo, a silk screened "Queen crest"' platter from artwork created by Freddie Mercury and a Queen dust-cover lid badge.
The turntable is fitted with a hand built RB101 tonearm and a Rega Carbon moving magnet cartridge and features a low noise, low vibration 24V synchronous high performance motor. As an optional upgrade (sold separately) a handmade, high performance moving magnet Rega Bias 2 cartridge is, also, available. This cartridge is designed specifically for the RB101 tonearm mounted on the Queen by Rega turntable.
This unique turntable will be available to purchase from Rega's dealers and distributors from the 25th September.
Queen will hit the crest of an already massive wave – a world-wide renaissance of vinyl and record players – with the ultimate set of vinyl LPs, the complete collection of Queen studio albums, re-mastered to the highest standards of quality in both audio and artwork. The band and their label- Universal Music, have announced "Queen: The Studio Collection", an 18 disc theme-coloured vinyl LP collection to be released September 25.
The LP box set comes with a lavishly illustrated 12x12 inch 108 page hardback book which features introductions to each album, quotes from Queen themselves, hand-written lyrics, rare photographs, memorabilia, and information on singles and videos - all made possible with unlimited access to Queen's own archive plus the personal archives of Brian May, Roger Taylor and some generous fans.
For more information: http://www.rega.co.uk/, http://www.queenonlinestore.com/
---