Revel unveiled Concerta2 series.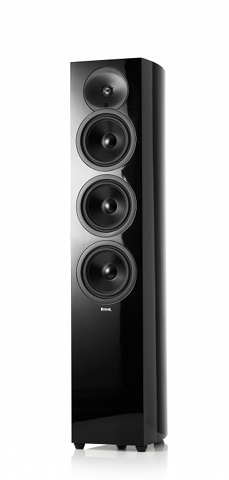 Source: Press Release, Last Accessed: 2015/01/29
Harman unveiled its Revel Concerta2 Series loudspeakers, a complete lineup of home theater and music loudspeakers that incorporates numerous design and engineering upgrades to deliver exceptional sound and sets a new benchmark in high-end loudspeaker value. Along with their improved audio performance, Revel Concerta2 loudspeakers have a refined appearance with new contoured enclosures, high-gloss finishes and elegant design accents.
The Concerta2 Series include six models, the F36 2.5-way floorstanding tower (1-inch tweeter, three 6.5-inch woofers; SRP: $2,000/pr), the F35 2.5-way floorstanding tower (1-inch tweeter, three 5.25-inch woofers; SRP: $1,500/pr), the M16 2-way bookshelf monitor (1-inch tweeter, 6.5-inch woofer; SRP: $850/pr), the C25 2.5-way center channel (1-inch tweeter, dual 5.25-inch woofers; SRP: $750/ea), the S16 2-way surround speaker (1-inch tweeter, 6.5-inch woofer; SRP: $1,000/pr) and the B10 powered subwoofer (10-inch woofer, built-in 800-watt amplifier; SRP: $1,500/ea).
According to the press release, all models employ a 1-inch aluminum tweeter with an integral phase ring, derived from Revel_s Performa3 Series, mated to a new, patented fourth-generation Acoustic Lens Waveguide that optimizes the blend between the tweeter and woofers and improves off-axis performance for smoother, more consistent performance over a wide listening area. The newly designed woofers feature ribbed aluminum cones that help keep distortion to a minimum by improving rigidity without increasing mass. The result is transducers that behave like ideal pistons throughout their operating range, Revel says.
Concerta2 loudspeakers are built using 3/4-inch MDF enclosure material with non-parallel sidewalls to attenuate internal standing waves. The enclosures have edge-to-edge _windowpane_ bracing to reduce cabinet-induced coloration. Premium internal parts and wiring are used throughout, including gold-plated multi-way binding posts to accept a variety of speaker cable terminations.
Revel Concerta2 loudspeakers are available in high-gloss black and high-gloss white painted finishes to complement any home entertainment system and living space. The series will be available in the fall 2015.
For more information: http://www.revelspeakers.com/
---