Rotel introduces its new RSP-1582 Reference Surround Processor.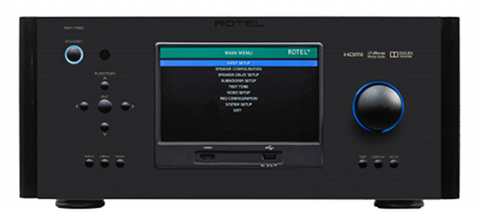 Source: Press Release, Last Accessed: 2015/01/06
Rotel recently announced details about the RSP-1582, a new 7.1 channel, surround-sound preamplifier/processor home theater component that can serve as a master control for all audio and video components in an audio/video system.
DACs featured in the RSP-1582 preamp/processor consist of six 24-bit/192kHz Wolfson WM8740 chips, four dedicated DACs for the front left, front right, center and subwoofer channels and shared stereo DAC's for the rear and surround channels. Also included is a Texas Instruments PCM1804 audio-performance analog-to-digital converter (ADC).
Multichannel soundtracks are decoded by a Texas Instruments Aureus TMS320DA808 DSP chip with a 10-channel parametric equalizer. Digital inputs include: optical (3), coaxial (3), PC-USB input supporting 24bit/192kHz audio, and an embedded aptX Bluetooth receiver for CD quality wireless connectivity.
The RSP-1582 has an analog Bypass function for relevant input signals, which circumvents the DSP section to obtain the purest analog signal path. The analog inputs include: Phono stage, Auxiliary (4), XLR balanced input, 7.1 channel input, and conventional stereo analogue inputs (6). The analog preamp outputs are presented on fully balanced XLR and unbalanced RCA connectors, both with twin subwoofer connections. The volume control permits fine adjustments of level in increments of 0.5dB.
The RSP-1582_s eight HDMI 4K video pass-through inputs utilize a Silicon Image Sil9573 2K/4K HDMI transceiver. There are also two HDMI 4K video pass-through outputs (one ARC/CEC enabled) and a convenient front-panel HDMI input with 4K video pass-through.
The RSP-1582 will be available in black or silver finishes, in March/April 2015. Suggested retail price will be $3,499.
For more information: http://www.rotel.com/
---