MOON Neo 230HAD headphone amplifier/DSD DAC from Simaudio.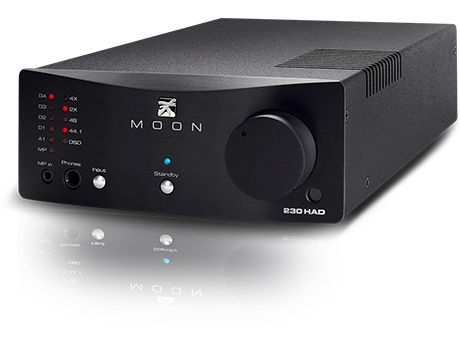 Source: Official Website, Last Accessed: 2015/07/23
The Neo 230HAD is a headphone amplifier, a DAC and a line-stage preamplifier all housed in one very stylish package. Simaudio states that the possibilities are endless both for the headphone lover who desires a unique personal listening experience, and the computer user who looks for the perfect desktop solution...
According to Simaudio, for any of these scenarios, the Neo 230HAD is more than capable of the task, whatever your needs may be. Based heavily on the reference 430HA headphone amp, the 230HAD features a DSD256/32-bit PCM capable d/a converter that can be used with virtually any digital source such a computer, satellite TV receiver or Blu-Ray player and offers the same fidelity as your main music system. The 230HAD fills an immense void in the current headphone marketplace, especially when considering its exceptional "price to performance" ratio the company says.
Today music lovers need a flexible high quality DAC, capable of both DSD and hi-res PCM. This new multi-function product appears to be more about affordable high-performance than minor features. A headphone amplifier, a DAC and a line-stage preamplifier all housed in one very stylish package. Additionally, the 230HAD is hand-crafted in Canada and comes with a 10 year warranty.
Inputs include one single-ended on rear-mounted RCAs and one single-ended on 3.5mm mini-jack located on the front panel while outputs include a quarter-inch TRS headphone jack, as well as both fixed and variable single-ended line-level RCA stereo pairs.
The DAC includes four digital inputs (S/PDIF 2x, TosLink 1x and an asynchronous USB), allowing for use with virtually any digital source. Neo 230HAD supports DSD64, DSD128 and DSD256 (through USB input only), PCM up to 24-bit/192kHz (all inputs) and 32-bit/384kHz (through the USB input). The analog stage features a pure analog amplifier using a transconductance circuit. An oversized power supply using a toroidal transformer in conjunction with 8 stages of DC voltage regulation is also used.
For more information: http://www.simaudio.com/
---