Born in Blue: Introducing the Sonos Blue Note PLAY:1.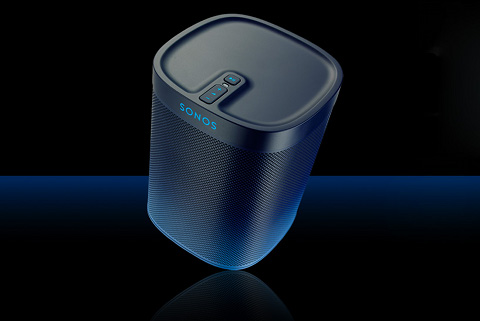 Source: Press Release, Last Accessed: 2015/02/04
Sonos' first ever limited edition speaker celebrates more than 75 years of the finest in jazz with a custom design and access to exclusive playlists. To commemorate 75 years and counting of Blue Note Records and a memorable year of collaboration they recently unveiled the PLAY:1 Blue Note Limited Edition.
"Music is meant to convey an emotional message to the listener. You don't want anything interfering with that message and Sonos shares Blue Note's dedication to this," said Blue Note President, Don Was.
Available for purchase on Sonos.com in the coming weeks, the Blue Note PLAY:1 puts jazz artists on stage in your home and illustrates Sonos and Blue Note Records shared dedication to high fidelity. "We wanted to create an expression of Blue Note's singular style while embracing all the idiosyncrasies of a live performance," said Sonos VP of Design Tad Toulis."This mindset led us to the design solution - one which captures a singular moment in the act of creation."
Crafted with a custom color developed through hand-painting techniques and strategic use of robots, the speaker's finish features a vertical fade from dark navy to cerulean blue, reflecting the deep bass to the richly detailed highs and lows that people know and love about the PLAY:1.
The Blue Note PLAY:1 comes with the "Blue Note on Sonos" radio station built into the main menu in the Sonos app, powered by TuneIn. Enjoy a year of Blue Note programming with three curated channels within the station. Included are the "Artist Selects", available exclusively on the Blue Note PLAY:1, featuring handpicked selections from the greats like Robert Glasper, Jose James, Terence Blanchard, Ambrose Akinmusire, Lionel Loueke, and Don Was himself, who has curated 125 of his personal favorites, "Born in Blue", where legendary Blue Note artists and those who have sampled them for mixes that celebrate the intersection of modern music and legendary jazz are brought together and "Blue Note 101", starting with the inception of Blue Note and following its progression to becoming an iconic label.
The Blue Note PLAY:1 will be sold exclusively on Sonos.com for $250, and €250, while quantities last. Sonos were only made about 4,100 and expect them to sell quickly.
For more information: http://www.sonos.com/
---