Sonos introduced Trueplay tuning software and new flagship PLAY:5 smart loudspeaker.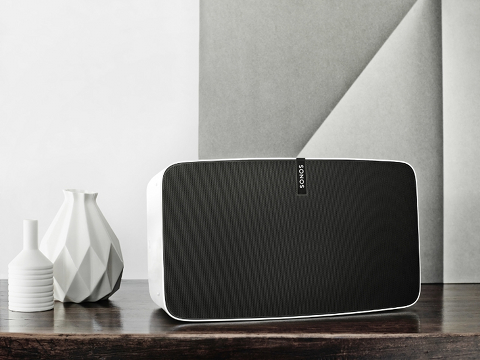 Source: Press Release, Last Accessed: 2015/09/29
With Trueplay, millions of listeners can easily tune their existing Sonos speakers to optimize the sound no matter where the speaker is placed, while the new PLAY:5, elegantly designed from the inside out, delivers the purest, deepest, most vibrant sound yet from Sonos. Both Trueplay and the new SONOS PLAY:5 will be available later this year.
Trueplay stems from the insight that few homes are acoustically perfect. The placement of the speaker and the room it's in impacts the way it sounds. In the past, customizing speakers has required complex and expensive professional calibration. Now with Trueplay, anyone can tune speakers with the press of a button. The result? Music is liberated so that it sounds great in every room, in every home, Sonos says. "Trueplay is a revolutionary system that gives music lovers confidence that they're hearing what their favorite artists labored to produce, independent of the room's acoustics and speaker location," said CEO John MacFarlane. "Finally there's a simple, reliable process that delivers studio-quality listening experiences in each room of the home."
Using the Sonos app, the microphone on an iPhone or iPad, and a special tone emitted by the Sonos speaker, the system analyzes how sound reflects off walls, furnishings, glass and other surfaces in any given room. Sonos then smartly tunes that speaker to optimize the result. Initially, Trueplay will be available on all PLAY:1, PLAY:3, PLAY:5 products and iOS controllers, and will continue to be added to the Sonos lineup over time.
According to the press release, the new PLAY:5 delivers a listening experience that is closer than ever to how every track was mastered in the studio. Built with six synchronized, custom-designed drivers, the speaker's three mid-woofers create smooth mids and deep, powerful lows, and three tweeters deliver crystal clear highs at any volume. The array produces a soundstage that is much wider than expected from a single speaker, creating room-filling sound with precise separation of vocals and instruments.
For the first time, SONOS PLAY:5 has three orientations. This flexibility, combined with Trueplay tuning, enables best-in-class sound for any placement, in any room. In addition to horizontal orientation as a standalone speaker, two PLAY:5s paired together vertically deliver top-of-the-line stereo sound with a focused and intense sweet spot. The new touch controls offer an intuitive, easy way to play, pause, adjust volume and change the track. Smart sensors make these touch controls responsive to all orientations, so the volume-up is always facing up. Just like its predecessor, the new SONOS PLAY:5 works seamlessly with all Sonos smart speakers.
Available in a custom matte black and matte white finish, the all-new PLAY:5 will retail for $499/€579.
For more information: http://www.sonos.com/