Sonus Faber's Lilium project.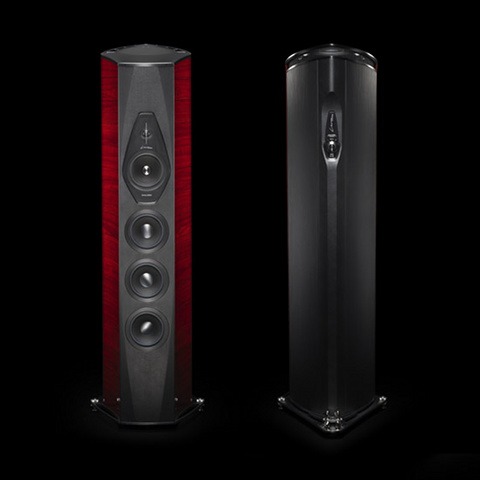 Source: Official website, Last Accessed: 2015/04/02
Sonus Faber's last creation, Lilium, was unveiled during 2014 Munich show. The Vicenza-based company now shares some details about their brand-new floorstanding loudspeaker, built around the knowledge gained through the creation of Aida.
According to Sonus Faber description, Lilium is a 3.5 way design housed in an orthogonal non interactive dual enclosure, para-aperiodic vented box, featuring a passive radiator loaded "Zero Vibration Transmission" subwoofer enclosure.
The loudspeaker's "Lyra" shape features variable thickness, triple curvature cabinet walls with a heavy bracing structure and a high speed mechanical interface (via a steel rod), to concentrate the remaining micro-vibrations and convey them to multiple "Tuned Mass Dampers", oscillating in anti-phase. The subwoofer enclosure has been decoupled from the main enclosure through a new implementation of the Zero Vibration Transmission technology, a suspension system that reduces the acoustic feedback and the vibration propagation to the listening room. The radiation of the main enclosure and of the subwoofer are orthogonal to avoid any intermodulation.
Lilium uses an "Arrow Point" DAD (Damped Apex Dome, a synthesis of the classic dome and the ring transducer) H28 XTR-04 tweeter, a Sonus Faber designed 28 mm moving coil driver, with neodymium motor system and a natural wood acoustic labyrinth rear chamber. Mid frequency signals are reproduced through an M18 XTR-04 180 mm neodymium magnet system midrange. CCAW (Copper-Clad Aluminum Wire) is used on a composite former "eddy current free" voice coil. Its diaphragm is made with an air dried/non pressed blend of traditional cellulose pulp, kapok, kenaf and other natural fibers, developed according to the most natural sound, Sonus Faber says. The same way as the tweeter, the midrange is decoupled from the main baffle with its optimized acoustic chamber.
Lilium's three W18XTR-16 woofers, feature 180 mm lightweight "sandwich" cone structures (high-tech syntactic foam core and two external surface skins of cellulose pulp) in an acoustically amorphous "stealth reflex" chamber. Designed to blend perfectly with the midrange, the sandwich structure with outer paper pulp skins has the same sonic character of the midrange cone. A powerful long stroke motor system with a 1.5-inch voice coil is implemented for high speed, performance and linearity.
The subwoofer uses a 260mm driver (SW26 XT-08), that features a lightweight hard paper composite sandwich cone loaded by a passive radiator tuned separated enclosure. The unit uses a very powerful long throw motor with a 2.5-inch voice coil. SPL adjustment is available to match the low-end performance to different listening rooms.
The crossover network offers optimized amplitude/phase response for best space/time performance, including some amplifier-friendly impedance compensation network at low frequencies. Mundorf Supreme Silver/Gold/Oil capacitors and Jantzen inductors are used.
For more information: http://www.sonusfaber.com/
---