Easy listening: it's all yours with four new Bluetooth headphones from Sony!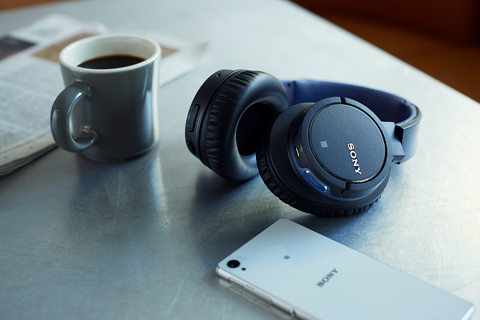 Source: Press Release, Last Accessed: 2015/02/23
Fresh additions to Sony's headphone line-up bring you thrilling sound and effortless style while you're out and about – without the tangle of wires to slow you down, offering high quality audio and digital noise canceling.
The brand-new headphone models offer the freedom and convenience of Bluetooth wireless listening. Just touch your NFC-enabled Walkman, MP3 player or smartphone against the headphone to make an instant wireless connection.
Joining the acclaimed MDR-1A, the luxurious MDR-1ABT brings you wireless, high quality audio. It's Sony's first reference-quality headphone featuring LDAC, a new audio technology from Sony that enables high quality wireless listening via Bluetooth. Transmitting three times the data of ordinary Bluetooth links, this efficient new codec lets you stream pristine, lag-free high-quality audio wirelessly from compatible devices, the company says.
Including Sony's latest Digital Noise Canceling and with a comfortable around-the-ear design for extra comfort on long journeys, the MDR-ZX770BN cuts cabin noise and other background sounds using Sony's powerful DNC software engine. The headphone's handy swivel design stows away easily, saving space in a bag or suitcase while you're traveling. A generous music playback time of 13 hours (with NC on) between battery charges lets you enjoy lengthy journeys.
Every day Bluetooth wireless listening is made supremely simple and convenient with the MDR-ZX330BT with easy One-touch connection. According to the press release, it offers well-balanced sound by 30mm driver units, while 30-hour battery life for wireless listening means you won't run out of juice during the daily commute or overnight trip.
Finally, the MDR-AS600BT brings the convenience of Bluetooth listening to the toughest workout – or just a gentle jog round the park. The splash-proof design wards off rain and perspiration during grueling training sessions. And with the built-in mic it's easy to take phone calls at the touch of a button without missing a beat while you're on the treadmill.
The new MDR-1ABT, MDR-ZX770BN, MDR-ZX330BT are scheduled for sale from May and the MDR-AS600BT from April (for the UK market).
For more information: http://www.sony.net/
---