Shake the house down with Sony's new high powered audio systems!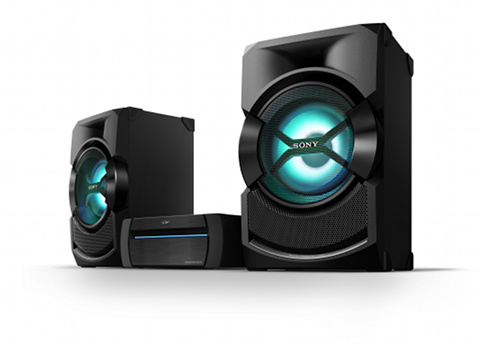 Source: Press Release, Last Accessed: 2015/03/30
Convert your living room into an epic dance floor with Sony's updated range of high powered audio systems. Recreate the electric feeling of a world-class nightclub at home and dance the night away with your friends with MHC-V7D, SHAKE-X3D and SHAKE-X1D.
The MHC-V7D delivers soul shaking bass, with 1550W of sound pressure (1440WRMS, 105.5dB SPL) thanks to Sony's new Smart High Power Technology,designed to increase acoustic pressure. Featuring Sony's Clear Audio+ technology to optimize sound settings with one single touch as well as a Football mode that enhances the atmosphere of sporting events, the MHC-V7D provides ideal, occasion specific sound, whether you are having a chilled night in, are watching the game, or hosting a party.
Enhance your favorite tracks with easily controllable DJ- and Sampler sound effects, such as audience reactions and reggae horns or add your own voice to your favorite songs with two Microphone inputs for Karaoke. The bass bumping MHC-V7D also allows you to elevate the atmosphere on your dance floor further by engaging your visual senses with integrated, adjustable space illuminating party lights that let you synchronize the light effects with the beat of the music.
MHC-V7D's new Gesture Control Technology lets you effortlessly transcend the world of DJs as you control both the music and lighting at your party effortlessly with the flick of your hand. Connect your smartphone to the speaker system via NFC and Bluetooth to wirelessly stream and listen to your playlists on the MHC-V7D. Keep in full control of the music and lights, add DJ-Effects and enjoy voice playback even while mingling with your friends using Sony's new Fiestable app. Simply download the App from the Google Play or App Store and connect the MHC-V7D to your smart device, which will act as a remote control.
This true DJ-experience is packed into a space saving one-box design. Should you however feel the need to truly wake up the neighbors you can use Party Chain Mode to hook-up and sync the MHC-V7D to other compatible High Powered Audio Systems such as the SHAKE-X3D or SHAKE-X1D.
Sony's new SHAKE-X3D two-way speaker system features a 2.5cm (1-inch) tweeter and a 25cm (9.8-inch) woofer and offers a 2300W of sound power (1200WRMS , 114.0db SPL). Sony's sound pressure horn enhances bass strength and depth by increasing its acoustic pressure whilst DSEE (Digital Sound Enhancement Engine) elevates your music by restoring high-frequency signals often lost in compressed audio sources. Thanks to the featured Party Chain Mode you can even combine multiple compatible Hi-Fi systems to the SHAKE-X3D to create an even more powerful sound. Much like its big brother, the SHAKE-X1D incorporates all of the Shake-X3D's features in a more compact design with 1850W of sound pressure.
For more information: http://www.sony.net/
---