Sony launches ES receiver designed for next generation home entertainment.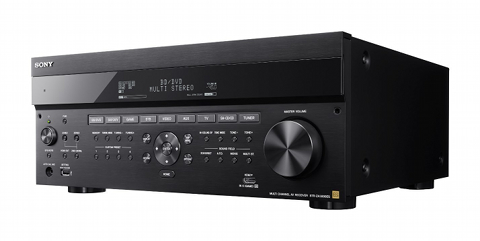 Source: Press Release, Last Accessed: 2015/10/15
Sony has announced the STR-ZA5000ES, a new 9-channel ES receiver which has been specifically designed to serve as the centerpiece for "next generation" home entertainment systems. The new high powered (9x130 watts) flagship model supports the latest 4K Ultra HD applications and includes a full range of convenient features that address virtually every system integrator's needs.
The ZA5000ES is the first ES receiver compatible with both Dolby Atmos and DTS:X via a firmware upgrade. By using two additional amplifiers, these formats can support up to 11.1 channels of sound for the latest object-oriented audio sources that are now available from a growing number of platforms. The receiver also supports a long list of legacy surround formats, including Dolby TrueHD and DTS-HD Master Audio.
The receiver incorporates powerful DSP technology which utilizes a high speed clock to achieve unprecedented operational efficiency. A high performance 32-bit floating point processor is also used to optimize signal processing, along with shorter signal paths to reduce impedance and interference from digital noise. To complement this, the ZA5000ES includes Sony's latest D.C.A.C. EX technology with a new feature called Speaker Relocation. This compensates for less than ideal listening environments by closely simulating the sound field produced by optimally positioned and angled speakers.
Additionally, the ZA5000ES can deliver High Resolution Audio over HDMI. Sound quality is also improved by a newly developed preamplifier circuit that reproduces high resolution music with more accurate response and greater detail. All preamplifier functions are performed by a new IC which provides faster response time, higher signal-to-noise and reduced thermal interference.
The video processor section includes six HDMI inputs and two outputs that provide full HDCP 2.2 compliance and supports the latest 4K 60P (4:4:4:) Ultra HD content. It can also distribute both 4K video and multichannel audio simultaneously to two different zones. Unlike conventional receivers, the ZA5000ES is even compatible with the new BT.2020 wide color gamut standard for future applications. Additionally, the receiver can upscale video to 4K 24P and is one of the first receivers that can support High Dynamic Range (HDR) sources. A special test pattern is also included for verifying 4K connectivity.
The ZA5000ES features a built-in graphic user interface (GUI) which offers a visual confirmation of system set-up; while cursor keys on the receiver's front panel provide full functionality - even without the supplied remote. It will be available in Spring 2016.
For more information: http://www.sony.net/
---