Unleashing Sound Blaster X7, the biggest, baddest, boldest Sound Blaster ever!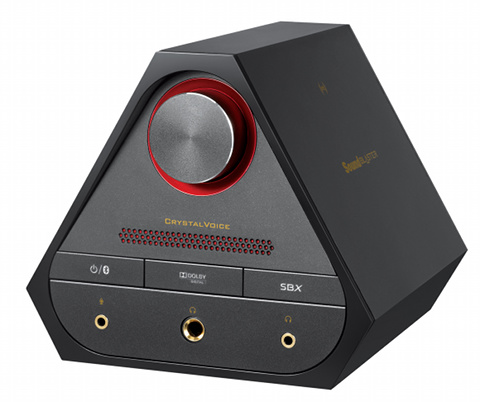 Source: Press Release, Last Accessed: 2014/09/03
Creative's Sound Blaster X7, is their most powerful and technologically advanced audio solution to date. Created to provide only the best audio experience for gamers, the Sound Blaster X7 incorporates Creative's renowned audio processing technologies with the finest audiophile-grade components and specifications, coupled with a whole slew of advanced features to cover all aspects of usage on different platforms.
Designed to connect with a whole range of gaming and entertainment systems, the Sound Blaster X7 functions as an ultra high-end external Sound Blaster with a 24-bit/192kHz high-resolution 127dB digital-to-analog converter (DAC) and 100W-capable audio amplifier. The result: the clearest, most powerful high-resolution audio experience for games, music and movies, the company says.
Users of the Sound Blaster X7 will gain full access to Creative's extensive suite of advanced audio enhancement technologies through the built-in SB-Axx1 multi-core DSP that deliver an all-new standard of audio realism for games. This functionality is especially pertinent to capture and reproduce the incredibly detailed audio created alongside the immensely compelling graphics and expansive environments found in today's popular gaming titles, such as Battlefield 4, Titanfall and Skyrim.
With the Sound Blaster X7's massive connectivity options, users who game on PCs, laptops, game consoles, tablets, smartphones and even TVs can now enjoy the full benefits of these enhancement technologies.
The X7 features a Burr-Brown (PCM1794) based DAC that supports high-resolution audio playback of HD audio tracks up to 24-bit/192kHz when connected to PC/Mac, including 24-bit/88.2kHz and 24-bit/176.4kHz, a Texas Instruments (TPA6120A2) 600Ω headphone amplifier and a high power, high efficiency Texas Instruments Class D amplifier (TPA3116D2) to deliver up to 100W power (2x50W at 4 Ohm loads if upgraded with a high power adapter) to passive bookshelf and floorstanding loudspeakers. Along, a Burr-Brown (PCM4220) based analog-to-digital converter (ADC) delivers high quality, low noise analog line-in audio playback and audio recording of up to 24-bit/192kHz.
Users will also be able to enjoy a cinematic audio experience via the Sound Blaster X7's built-in Dolby Digital decoding technology that delivers powerful 5.1 discrete channels of high-quality surround sound for supported content via their loudspeaker systems.
The Sound Blaster X7 boasts a full range of convenient audio input and output options including USB 2.0 connectivity, optical S/PDIF input, Bluetooth 4.1 and Near Field Communication (NFC) technology and a standard RCA line-in option for analog connectivity to other various audio sources.
For more information: http://www.soundblaster.com/
---